Alumni Profile
Profile Mariel Verdi, SIS/BA '07, MA '10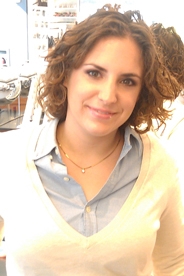 Why did you choose SIS?
The School of International Service and American University offered the International Affairs education I was looking for, a top-ten international studies school, and value. If it were not for the generosity of the need-based scholarship from AU, I would have never been able to have the same experience that I did. I will always be grateful for the school's generosity.
How do you make a difference in the world?
I have always aimed to serve others. Recently, I led a group focused on narrowing the gender gap in Department of State leadership by empowering and encouraging women at the entry and junior levels of their career. Through mentoring, panel discussions, and small group engagement with leadership, a small board of directors and I grew the organization to over 500 members. On a more personal level, I inspired three female interns to successfully pursue full time careers. It was a three-year labor of love. Now that I have joined Booz Allen Hamilton, I coordinate outreach activities for federal sector clients that successfully convey their message while ensuring they can serve the taxpayer.
How has SIS made a difference in your world?
SIS created an environment where I could meet people who shared my passion for international affairs and had a different perspective on the world. I had classes with professors and students from all over the world and across the United States. They challenged me to think about my opinions and find the facts to support them. I will never forget the wide-eyed inspiration I felt when Professor Vidyamali Samarasinghe would tell us about her field research surrounding the health of female tea farmers, the pain I felt when Professor Christine Chin talked about her interviews with sex workers, and the enthusiasm I couldn't but take on when learning from Professor Nannette Levinson. It was an unrivaled experience.
What is your field of study?
I completed my Bachelors in International Studies with a focus on International Development and Latin America in 2007, and my Masters in International Communication with a focus on Information Communication Technology for Development in 2010.
What world issue most interests you?
The construction of mobile phone and fiberoptic networks worldwide, especially in Africa, and its effect on economic development and health.
Who is your professional role model?
First, Madeleine Albright. She combined intelligence, dogged determination, and shrewd judgment to tackle some of the world's most complex problems during her career, spanning from academia, to the National Security Council, to the United Nations, then the Department of State, and now the National Democratic Institute.
Next, Hillary Rodham Clinton. She successfully put compassion into domestic and foreign policy to make some of the most beneficial changes at home and abroad. She could also eloquently reply to even the most vitriolic of colleagues on the Hill.
What is your favorite book?
Atlas Shrugged. It uses vivid imagery to demonstrate the world's struggles with economic shifts in the time it was written. It also features a strong female protagonist.
What is your favorite movie?
Love Actually. It is a funny, intelligent, very human romantic comedy.
Is there a pivotal experience that led to your current position?
When I stood in front of the group, celebrating the second anniversary of Executive Women at State: Entry and Junior Level, a group that I founded in 2009 in response to the attrition of entry level women who had joined the Department of State of peers, I realized that with enough determination, I could do anything and do my part to make the world, my workplace, my community a better place.