Alumni Profile
Navy Veteran, Two-Time Kogod Alumnus Planning Third Career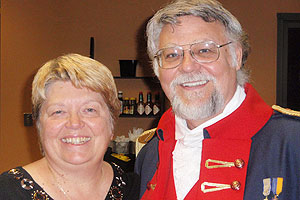 Alumnus Jim Baker has two degrees from American University's Kogod School of Business and a third doctoral degree from the University of Texas at Austin. 
If you think that's impressive, wait until you hear this: Baker also served in the U.S. Navy for 31 years, currently manages a probation office in Texas and is planning for his second retirement and third career.
But Baker's reluctant to praise himself; he'd rather sing the praises of wife Kay Louise Baker (nee Menhennett), a fellow American University graduate and a retired Marine who served for 20 years. "Kay is one of just over 1,200 women who have ever retired from the U.S. Marine Corps," Jim writes.
The pair met on campus, in a class on organizational behavior taught by Jim's faculty advisor, Dr. David Martin. Both Jim and Kay were attending AU while on active duty using tuition assistance from the military.
Jim was in Kogod's MBA program; Kay was finishing a PhD in Education from the College of Arts & Sciences and needed a business class to fulfill a requirement. Both of them had attempted to register for the class several times before, only to discover it was full. "Can you say kismet?" Jim asks.
After their class ended, Kay asked Jim to dinner; by February 1991 the pair was engaged.
The Persian Gulf War was underway, which cast some confusion over their wedding plans; but when the conflict quickly ended, they decided 'Why wait?' In two weeks, they planned their wedding and were married on May 18, 1991. Jim's MBA graduation ceremony was one week prior.
"We look back on our experiences at American University with fondness, while acknowledging the excellent education we received from our amazing professors at AU," says Jim. "Everything associated with the campus and our education was superb."
Jim and Kay moved to Austin, Texas following their retirements from the military; though he'd specialized in cryptology while serving in the Navy, Jim completed a doctoral degree in Education. "The original intent of my attaining a PhD was so that we could work together someday at a university," Jim explains.
That never did happen, but they are currently working in the same department -- the Williamson County (Texas) Adult Probation Department. 
Kay is the director of a residential drug and alcohol treatment facility for felons. Jim manages 20 probation officers (who in turn supervise almost 2,000 probationers). They plan to retire from the department in the next five years, and are toying with the idea of buying a bed and breakfast in Key West, Florida.
"Whatever we do, it will be fun," Jim says. "Life is too short not to enjoy the person you are with and your job.  We will never stop working because we love making a difference in the lives of others."