Alumni Success Story
Opera out of the Box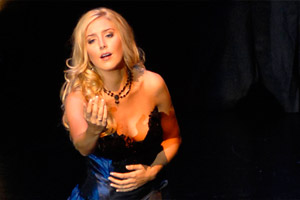 "If you could have dinner with anyone, who would it be?" The question was put to Jennifer Corey, BA performing arts '09—and a contestant for the Miss National Sweetheart Pageant—during a mock interview last December.
For Corey, the answer was easy: Plácido Domingo, the famous tenor and director of the Washington National Orchestra (WNO). Corey, a music major with a concentration in vocal performance, is an opera aficionado. (As a Miss America contestant in January, she sang O Mio Babbino Caro.)
As it happened, one of the pageant interviewers worked for the WNO. He asked Corey to apply for an internship. She followed the lead and was hired. That was nearly a year ago. When her internship ended, the WNO asked Corey to stay on as an apprentice in their Education and Community Programs Department.
Her main responsibility is to create DVDs and other multimedia products that educate viewers about the WNO. It isn't your typical 9-to-5 desk job. In September, she single-handedly wrote, edited, recorded, and produced a WNO commercial that aired at the Washington National Stadium. And three or four times a week, she and other department members go into the city to teach D.C. youth about opera.
Through Student Look-In, one of the WNO's programs, local students have an opportunity to attend a kid-friendly performance of a current WNO opera. Drawing on their experience, the students spend the rest of the school year writing their own version of the opera, which they perform in the WNO's studio for other D.C. public school students.  
"The kids may be in third grade and learning geometry or simple math when they're making a set," says Corey. "We work with the teachers to take what [the students are] learning in class and apply it to the things that they're learning through the opera."        

The days can be long. Sometimes Corey starts with a school visit at 8 a.m. and goes until 11 p.m. if there's a performance. "When you're a student at AU, you live in the AU bubble and you don't get to see a lot of the other parts of the city," says Corey. "Because of my job now, I'm in Southeast [D.C.], I'm in Anacostia, I'm in Northeast almost every single day." 
Working for the WNO certainly has its perks. Corey gets to see any performance for free. She has access to some of the world's most talented opera singers. She has been asked to stand in and perform in education department programs. And the costume department even designed her dress for the talent competition in the Miss America pageant.  
"This is my dream job," says Corey. "I get to sit in my office and listen to renowned opera singers singing down the hallway from me all day long and [also] work with kids all day long. It is so much fun.
 —From "Opera out of the Box," Connections Magazine, Spring 2010.