Josh Williams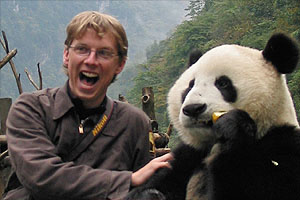 Josh Williams
MA, Interactive Journalism '07
When he enrolled at American University's School of Communication, Josh Williams had spent five years in what many would consider a dream job, creating interactive exhibits at the National Zoo.

But it wasn't quite enough.

Ready to continue his education but reluctant to leave such a great job, Williams chose SOC's weekend master's program in Interactive Journalism. "I was working full time at the Smithsonian, and it seemed like a flexible, fun program that allowed me to continue my career and earn my master's."
The program wasn't all fun and games, however. "We had a class with Howard Parnell that was a simulated newsroom where every Saturday we had to put out a newspaper and I think that was the class that best prepared me. Daily pressure, daily deadline. That kind of work set me up for the pressure in a newsroom."
Williams gained not only experience, but also a lasting professional network through the weekend program's cohort system. "What I liked about the cohort program is that there were a few people in there that I really respected and I watched this group grow together and we keep in touch. I don't think we would have if we didn't have that experience. There is a lot of camaraderie in the cohort style."
After graduation, Williams managed the launch of the Las Vegas Sun's new website in 2008, which was awarded the 2008 General Excellence Award from the Online News Association, where the judge called it "[o]ne of the best newspaper Web sites I have seen, with high quality multimedia content that is integral to the site, not an afterthought or secondary element." The site also won an award from Editor & Publisher for best overall newspaper affiliated site.
These days, Williams is miles away, serving as a Multimedia Teaching Fellow at the J-School, where he is involved in the school's News21 project and Knight Digital Media Center.