Alumni Success Story
Founders Day: Celebrating the Enduring History of AU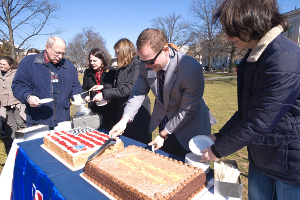 There is a famous quote saying, "You can't know where you are going unless you know where you have been." History holds a special place in the hearts and minds of many.  American University has quite the history.  An inspiration for the founding of AU dates back to a letter written by George Washington, in which he expressed a desire for a "national university" to be located in the nation's capital. 
More than 100 years after this letter was written, the university was chartered by an Act of Congress on December 5, 1892 as "The American University." The university was established in the District of Columbia by an Act of Congress and approved by President Benjamin Harrison on February 24, 1893.

Methodist Bishop John Fletcher Hurst and his colleagues encouraged building an institution that would meld the strengths of the best German universities with the strengths of the existing university system in America. They began to conceive of American University as an institution that would be:


A privately supported university financed principally by the membership of the churches
An internationally minded institution where scholars from across the nation and around the world would gather to dedicate their combined efforts to the advancement of knowledge
A center of higher education and research activities that would draw freely on the intellectual and scientific resources of the nation's capital to supplement and to extend its own capabilities
A contributor to the general cultural life and development of the capital
While the founding was in 1893, more than 20 years passed before the first students were on campus.  The university was officially dedicated on May 15, 1914. The first instruction began on October 6 of that year, when 28 students were enrolled. The first commencement, at which no degrees were awarded, was held on June 2, 1915. The first degrees were handed out on June 2, 1916 at the second annual commencement.  Since that time, the university has continued to grow and expand to what it is today, with more than 6,000 undergraduate students and a community of over 115,000 living alumni.  Just as the founders envisioned, AU has become a global university, advancing knowledge far into the future.

This year, the Office of Alumni Relations kicked off the Student Government's Founder's Week with Cake in the Quad. Alumni and students had the opportunity to mingle and feast on some birthday cake. Student Government culminated the week of celebration with the annual Founder's Day Ball on Saturday, February 25 at the Library of Congress. More than 400 students gathered with alumni, faculty, and staff in celebrating the great institution we all know and love.