SIS Alumnus Takes Expertise Around the World With State Department
By Annie Lyon, CAS/MA '03
July 22, 2010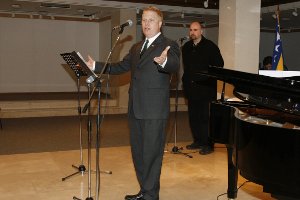 Like many students at American University's School of International Service (SIS), Ron Hawkins, SIS/BA '95, SIS/MA '97, learned about promoting understanding along with information. But unlike many students who use what they've learned domestically, Hawkins has been taking that lesson around the world with him.
As a Cultural Affairs Officer with the American Embassy in Sarajevo, Hawkins is intent on making the relationship educational and beneficial. "We have a special responsibility as a guarantor of the Dayton Peace Accord, which ended the war, to work to help build a better Bosnia," Hawkins explains. "In this capacity, we have used culture as a tool to share American experiences with our host audience."
Having previously served in Iceland and Algeria as a Foreign Service Officer, Hawkins is well aware of the tradition in which the U.S. Embassy serves as an example for its host country. Nowhere is this more necessary, Hawkins feels, than in Bosnia-Herzegovina, which has a history of divisiveness. One story, in particular, describes Hawkins' success at bringing this issue to the fore.
"Bosnian schools are segregated," Hawkins reports. "In some cases, Muslims and Catholics enter from different sides of the building and have [alternating] schedules to prevent their interaction. To draw parallels [between Bosnia-Herzegovina and the U.S.], the U.S. Embassy decided to mark the 55th Anniversary of Brown v. Board of Education in May 2009. We wanted to highlight that our history is not perfect … [and] that we have been down the path of division and realized it was not good for our nation and our future.
"So we devised a speaker's program touring the country, visiting universities in various cities, and speaking with local leaders and local activists, as well as with religious leaders. A visit to one of the more well-known segregated schools was also planned. But in order to do this, we needed a speaker who would draw media attention and, at the same time, promote hope and a sense that change is possible. So who better than Martin Luther King III? We were elated when he accepted the Ambassador's invitation to come to Bosnia. He shared his family's legacy and talked about the work of his foundation, Realizing the Dream, which continues the work of his parents. It was a grand success, and we made a great connection between America's past and Bosnia's present."
Hawkins' own past could itself be described as a "grand success." A native of Baltimore, he was originally attracted to the "reputation and size of SIS," as well as the possibilities for studying abroad (then called the World Capitals Program). The professors, additionally, impressed him.
"Professor [Duncan] Clarke, Professor Gunther Eyck, [and] Professor [Clovis] Maksoud each brought … international affairs [alive] through their academics, but also their personal stories they shared with us in class. I also remember one class—History of the Caribbean—and the professor really taught it in such a way that it made one think about history, how it was remembered and how sometimes insensitive it can be. AU [has] wonderful teachers, eager to ensure the success of their students," Hawkins says.
Not only did SIS fit the bill for him, but Hawkins was able to participate in the State Department Co-op Plan (originally begun by SIS alumnus Ted Strickler, SIS/BA '69), from which Hawkins earned credits toward his master's and a foot in the door. "After graduation, I was hired permanently. I worked for 4 years with Consular, and then 1 year in the State Department Operations Center—the heart and nerve," he notes. However, after the attacks of September 11, 2001, he felt a pull to take what he learned and use it internationally: "I wanted to do more and could do more overseas."
Hawkins will soon be returning to DC to share his expertise in a local office, as the Public Diplomacy Desk Officer for Austria, Germany, Switzerland, and Liechtenstein. He enthuses, "I am privileged to work for the US government and at the same time to learn so much about the world we live in."