Faculty Success Story
Professor's Teaching Fueled by Global Perspectives and Experience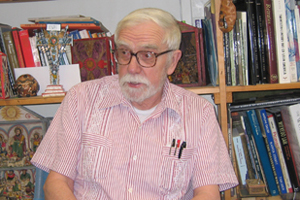 As an explorer, a scholar, a teacher, and a philatelist, Jack Child wears many hats. "I can trace all my interests back to a deep and abiding desire to learn all I can about Latin American culture," says Child.
Studying Culture from Two Points of View
He grew up in Buenos Aires, Argentina, graduated from Yale University, and later served in the army as a Latin American specialist. From there he earned his masters and doctoral degrees in international studies. "I have had a chance to study the culture I grew up in from both insider and outsider perceptions," says Child.
One example is the debate over the sovereignty of the Malvinas Islands and big part of Antarctica. "It was interesting to discover that contrary to what I'd been taught in Argentina, the rest of the world did not necessarily agree that these lands belonged to Argentina."
Turning Past Experiences into Action
His interest in Antarctica and its politics led Child to sign up as a guide and a lecturer on board expedition cruise ships to Antarctica. "Being in Antarctica is like being on another planet. It is an awesome, fierce world where the animals and their surroundings are stark black or white."
His passion for Latin American culture also inspired him to use a boyhood interest in stamp collecting to research linkages between postage stamps and historical and socio- political events in Latin America. "These fantastically bright colored stamps reveal everything from how a government depicts a historic figure like Eva Peron to their position on the sovereignty of Antarctica."
Child believes strongly in using objects like stamps as teaching tools. He brings masks, wood carvings, pottery, and Peruvian folk art into the classroom. "I want my students to be able to see, touch, and feel these pieces. I want them to examine them closely because they all contain a message—social and political critiques—from a unique Latin American perspective that can't be found anywhere else."