Alumni Success Story
Fast and Focused, Leadership Expert Green Motivates Best in Business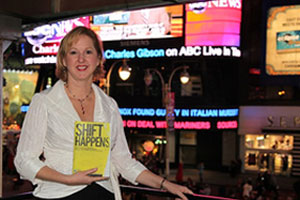 Technology and media are crucial for success in today's workplace, but they can also be a distraction, making busy managers lose sight of their objectives. That's where Holly G. Green, SPA/MSOD '98, CEO and managing director of The Human Factor, an organizational and management consulting firm, comes in.

"We're working at a pace today that we're not neurologically set up for," says Green. "People are so distracted that focus is a big issue."

Green's focus-by-getting-rid-of-the-noise approach is working. Startups and top-ranking companies including Google, Expedia, RealNetworks, and Sony Electronics, have turned to her for help with strategic planning. First she asks, "What does winning mean to you?" Then she helps break it down into steps by asking, "How do we get there?" It's as if "we're creating a travel brochure to your dream destination."

Recently featured in Newsweek magazine for her leadership expertise, Green wrote the chapter titled, "The Secret to Keeping Your Business on Track Today" for the book, Shift Happens: America's PremierExperts® Reveal Their Biggest Secrets to Help You Thrive in the New Economy, which hit Amazon.com's Best-Seller List in December 2009.

"It's exciting for The Human Factor to have exposure, which helps us reach more people and businesses, so we can therefore help more people be successful."

Green helps business leaders find balance, adjust their strategy, and move forward with focus and flexibility. "Many business leaders are running around taking advantage of every opportunity that comes their way, because that's what worked for them in the past. But, in football, they don't just run around the field. The huddle, plan, learn the rules first."

The same concept can be applied to business, says Green. "Slow down a little, so you can focus, then you'll go faster."
 
Green's first book More Than A Minute: How to Be an Effective Leader and Manager in Today's Changing World was published in 2008, after she gained more than 20 years of executive level and operations experience in FORTUNE 100, entrepreneurial, and management consulting organizations.

She travels extensively giving 50+ speeches a year on topics such as "Innovating Today" and "Are You Swift?"

What motivates a motivational speaker? "I love hearing stories of success and the excitement of enthusiasm." She is also motivated by something she calls her "Quote Museum," the space over her desk where she hangs many of her favorite quotes she's collected over the years. At the top of her list: "Go fast and the wrinkles won't show," from Gertrude Boyle, chair of Columbia Sports Wear, and "Nothing great was ever achieved without enthusiasm" from Ralph Waldo Emerson.

Green's enthusiasm of late is focused on growing her business.