Alumni Success Story
Phi Ep Brothers Host 100+ at 40-Year Reunion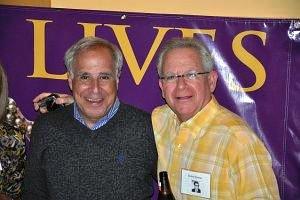 Phi Epsilon Pi fraternity brothers Robin Wexler, KSB/BS '68, and Jack Goldenberg, SPA/BA '69, weren't close as students. But they bonded last year after successfully coordinating more than 100 of their fellow brothers to come back to campus for their "First Official Phi Ep Reunion in 40 years" over Alumni Weekend  in October, and the result was nothing short of inspirational. 
"It was a home run!" summed attendee Ed Faberman, SPA/BA '67. "It was so good to catch up with the people we went to college with."
The reunion partnership began when Goldenberg posted a note on AU's inCircle network asking if any brothers would be interested in helping coordinate a reunion. "I had been thinking about it for quite some time," Wexler remembers, so when he saw Goldenberg's note, he knew he needed to reply. 
"It had been way, way, way too long," says Wexler. It was time for the gang to get back together.
Goldenberg contacted the Office of Alumni Relations to get a list of fraternity members. He also talked with Boots Nissenbaum, KSB/BS '68, who has coordinated several successful Zeta Beta Tau reunions at AU. "Boots said that the hardest thing was to get the list organized," Goldenberg remembered, so that's where he and Wexler started—getting as many people's contact information as possible.
"Tracking down e-mail addresses and phone numbers was challenging," confirms Wexler, "but it was also a lot of fun."
Goldenberg estimates he spent hours every night talking on the phone to brothers—catching up, and trying to talk them into coming back for the reunion.  With more than 180 fraternity brothers to reach out to, Wexler and Goldenberg had their work cut out for them – and realized they'd need help.
Tony Witlin, SPA/BA '70, "helped tremendously to locate people, even though he wasn't able to go to the reunion," acknowledges Goldenberg. "And we had some people who were more high-tech than Jack and I look up information on the Internet," adds Wexler, one of them being William "Tex" Armstrong, CAS/BA '69. "He was like a great detective tracking people down all over the country," Goldenberg admits.
With Goldenberg in New York, Wexler took the lead on organizing the reunion logistics in D.C. "My wife and I went to at least 10 different restaurants to figure out the best places to take the guys," he says. Goldenberg also worked with Nissenbaum, who coordinated the ZBT reunion over Alumni Weekend as well, to arrange a shared fraternity picnic, catered by Ron Vogel, CAS/BS '72, who owns local restaurant Booeymonger.
"It was a very special time for all of us," sums Goldenberg.
Wexler notes he was particularly surprised by "the love in the room—both nights and at the fraternity meeting. Everyone was very warm and it was obvious how thrilled everyone was to be there."
Since the big event last October, both Goldenberg and Wexler have received numerous e-mails, phone calls, and letters thanking them for putting it together. Some referenced it as a "watershed event" and "one of the most rewarding events I've ever participated in."
Interested in planning a reunion for one of the groups you participated in during your time at AU? E-mail reunion@american.edu or call 202-885-5902 for more information.