Alumni
AU Receives Over 19,300 Applications for Admission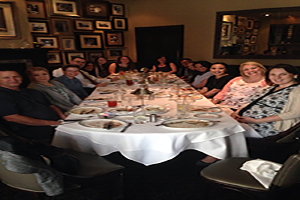 American University's Office of Enrollment experienced its most competitive application pool in university history for the incoming Class of 2020. With over 19,000 applications received for admission, AU's acceptance rate has dropped to 25.7%
"Our admitted students continue to reflect increased diversity in its broadest sense, including, but not limited to, diversity of race, ethnicity, geography, socioeconomic standing and intellectual viewpoint," said Greg Grauman, Assistant Vice Provost of Admissions.
Admissions has worked hard to recruit the best and brightest students for the next class, meeting students and participating in a variety of recruitment events across the country and throughout the world, and their hard work has paid off. In addition to the largest application pool in university history, the average GPA of students admitted is an impressive 3.7 and the average SAT score is 1280.
Admissions volunteers have also been a great resource to helping increase interest in AU. Volunteers act as admissions ambassadors in their local area and represent AU at local college fairs, national college fairs, information sessions, Admitted Student Receptions, Summer Send-Offs, Preview Day, Freshman Day activities, and conduct prospective student interviews with students who have applied for admission to AU. In the 2015-2016 academic year, admissions volunteers have engaged over 4,000 prospective students at over 170 events worldwide.
The less than 5,000 students to whom admission has been offered have had the opportunity to get to know AU better as they make their college decision through Admitted Student Receptions offered throughout the US this month. Held in 25 cities throughout the country, Admitted Student Receptions include a presentation featuring remarks from an admissions representative, an academic dean or other leader on campus, and a student ambassador and give the student the chance to meet representatives and alumni from AU and have any lingering questions answered ahead of the May 1 deposit deadline. In addition to these receptions, AU hosted a series of webinars throughout the month of April to provide students the opportunity to connect with AU remotely and welcomed over 2,000 guests to campus on Friday, April 15 for Freshman Day.
"We are excited about the promise of AU's Class of 2020," said Grauman. "When admitting only one of every four applicants, many difficult choices had to be made. Not only are those we admitted academically talented, but they also possess the nonacademic characteristics that we know make them a good fit for the AU community."