Alumni
AU Alumni Recruit and Welcome New Students
A mix of traditional and innovative engagement opportunities offer many ways to connect with new students.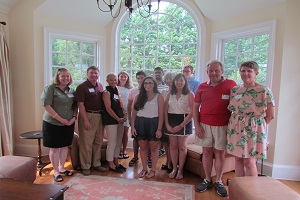 Since 2010, the Office of Alumni Relations has offered American University alumni the opportunity to act as volunteer admissions ambassadors through the Alumni Admissions Volunteer (AAV) program. Volunteers represent AU at a variety of events locally and internationally and recruit our next class of Eagles. In the past six years, the program has grown from 164 volunteers to a global network of more than 880 alumni and parent volunteers engaging over 5,400 prospective students on an annual basis.
Traditionally, Alumni Admissions Volunteers have participated in local and national college fairs, information sessions, prospective student interviews, Summer Send-Off events, and other welcome activities. Throughout the 2015-16 academic year, a host of new and innovative opportunities were introduced to allow alumni additional ways to connect with AU's prospective and incoming students.
Remote Engagement Opportunities
In an effort to offer engagement opportunities both to Alumni Admissions Volunteers and prospective students outside of major metropolitan areas where traditional recruitment activities are planned, the new student Phonathon and prospective student interview programs were expanded to provide alumni and students the opportunity to connect remotely. Expansion of the new student Phonathon initiative allows volunteers across the country to reach out and welcome local students. Prospective student interviews are opportunities for alumni to conduct non-evaluative, informational interviews with prospective students applying for admission. In 2016, this initiative was expanded to allow volunteers to conduct interviews via phone or Skype.


Webinars and Virtual Engagement
During the 2015-16 academic year, two new virtual initiatives were offered to Alumni Admissions Volunteers – a webinar for admitted students on alumni outcomes and the opportunity for alumni to welcome admitted students via email. The webinar presented information about alumni success and resources to admitted students while also offering a real-time chat feature for alumni to answer student questions during the presentation. Email engagement opportunities allow volunteers across the country and worldwide to reach out to admitted students and answer any questions they may have.


Graduate Alumni Admissions Volunteers
With more than 120,000 American University alumni worldwide (and 54,000 of those holding graduate degrees), a new graduate alumni admissions volunteer program was rolled out in 2015 to create a lifelong and worldwide community of AU graduate alumni who support the recruitment of prospective AU graduate and Washington College of Law students during the graduate admissions process. More than 200 registered graduate alumni admissions volunteers are now engaging prospective students by participating in the following initiatives: graduate admitted student receptions, college fairs, summer receptions or by writing an alumni letter. If you have a graduate degree from AU and are interested in graduate admissions volunteer opportunities, please contact Pat Rabb at rabb@american.edu.