Alumni
Alumnus Brings New Kind of Policing to MPD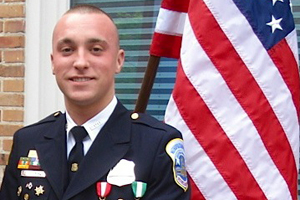 Drawn to the badge, car, lights, and yes, gun, Phil McHugh, SPA/BA '08, SPA/MS '09, always wanted to be a cop. But he credits his two degrees from American University with giving him the unique, humanistic perspective that makes him one of D.C.'s finest police officers. After five years of service with the Metropolitan Police Department, on April 1, McHugh was named "Officer of the Year" by Chief of Police Cathy Lanier and Mayor Vincent Gray. While he notes that a lot of police success is being in the right place at the right time, McHugh believes that his more relational approach to policing, much of which he learned through courses and internships at AU, contributes greatly to his success.
Majoring in justice, law, and society at AU, McHugh took a wide range of classes, and some of his favorites were not police-related. He recalls one in particular from Professor Rob Johnson about the lives of people in prison. He read books written by inmates and watched documentaries about prison life, gaining a better understanding of what it's like to be incarcerated. "It helped me see the human element of what we do. It's a human business. I never take arrests lightly -- I am forever changing this person's life."
The "human" part of his business inspired McHugh to take the police department's Crisis Intervention Training program in late 2011. Now a certified crisis intervention officer, he responds regularly to calls from citizens dealing with mental health crises. He is most proud of receiving the Life Saving Medal for saving the life of a suicidal 13-year-old boy, who threatened to jump from a ledge. McHugh tackled the child and saved his life.
A patrol officer for the evening shift, McHugh works the proverbial "third watch," from 3 - 11 p.m. Much of his shift involves driving the streets of downtown D.C., including Sursum Corda, a little-known housing project at New York Avenue and N. Capitol Street, home to myriad gangs and drug violence. In 2011, McHugh made 105 arrests, including one for the rampant burglaries and thefts at Walker Jones Educational Campus, located just next door to Sursum Corda. The young officer notes the importance of proactivity in his work. "We're able to prevent a lot of crime by being proactive, knowing the neighborhoods and the people in them," he says. "I pride myself on knowing the people in my beat who have committed crimes in the past and who are likely to commit crimes in the future. I keep a book of names and faces. It really upsets the criminals."
As a student, McHugh was the principal trombonist in AU's symphony orchestra and a member of the SPA Leadership Program, but he spent the majority of his free time working for the MPD. One of his first professors, Josh Ederheimer, SPA/BA '95, then assistant chief of police, offered McHugh a job working at the MPD. McHugh served as Ederheimer's deputy chief of staff for two and a half years, eventually catching the eye of Cathy Lanier, who stole him away to serve as her special assistant. The experience with both Ederheimer, whom he calls his mentor, and Lanier, was invaluable. "I was so excited and thrilled to have the access I did," says McHugh. "My desk was right outside Chief Lanier's office. I had meetings with the Chief and with the director of the FBI." But he knew that he really wanted to be a cop on the streets, helping people every day, so he entered the Police Academy and finished in six months.
When asked what's next, this already accomplished young officer notes that he would like to be promoted and be able to influence other officers to think about policing the way he does. "I think I have a good view about our role in society, which is to help people," he says. "I'd like to instill that in others." Whatever his next steps, McHugh is sure to bring with him the compassion and empathy that have marked his career thus far. "As a police officer, I deal with the most difficult moments of people's lives. If I ever become numb to this and stop having empathy for those victims and criminals, then I'll quit that day," he says. The MPD and citizens of the District of Columbia should hope that day never comes.