Alumni
Student-Alumni Dinners Bring Together Eagles from Across AU Generations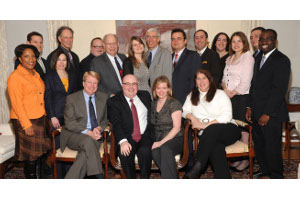 With careful planning and consideration for busy schedules, the Alumni Association Board's Student-Alumni Committee was able to corral AU student leaders and freshmen who took some time to share stories about their experiences, both on and off campus.

Tasked with increasing involvement opportunities between alumni and students, committee members Andrea Agathoklis, SPA/BA '98, Jim Callan, SPA/BA '81, Judy Meritz, SPA/BA '73, and Joe Vidulich, SPA/BA '08, have led initiatives for New Student Orientation, during Welcome Week activities, and throughout the year at several student receptions. While these opportunities provide a number of touch points, the committee hoped to find ways for more lasting outreach. Thus, the student-alumni dinner program was born.

With outreach to student leaders and a core group of freshmen, the committee hosted three dinners in the D.C. area in the two weeks before spring break. For hosts and guests alike, the evenings proved to be great opportunities to understand each other's worlds and to appreciate the diversity and drive that AU has fostered in generations of graduates.

While Agathoklis considered going to college in the D.C. area a real advantage, she was amazed at the level in which her student guests were involved in the D.C. community. "These are students who see D.C. as their campus," she said. With such high caliber performers and diverse interests, Agathoklis noted that the dinner program is advantageous for alumni looking to fill job openings and internship opportunities. "If we create more opportunities for these smaller discussions on a monthly or even weekly basis, it's only going to help alumni reconnect with campus and vice versa," she said.

For Andrea Lum, a senior majoring in public communication, the evening was a perfect opportunity to learn more not only about public relations, but also about fellow students and their current concentrations. "I liked that everyone's story was different," Lum said. A veteran of several alumni receptions throughout her time at AU, the dinner provided a different atmosphere to gather information and share her own story. "I liked that it was smaller and a little more informal," she noted.

In the future, the committee hopes to focus the dinner meetings on particular topics, concentrating on student majors, volunteer interests, and internship experiences. Would you like to be host an event like this? E-mail involved@american.edu to get started.