Questions?
Alumni Relations Communications
202-885-5910
Fax: 202-885-5964
crockett@american.edu
4400 Massachusetts Ave. NW, Room


Traci Crockett
Associate Director of Alumni Relations, Communications

Mailing Address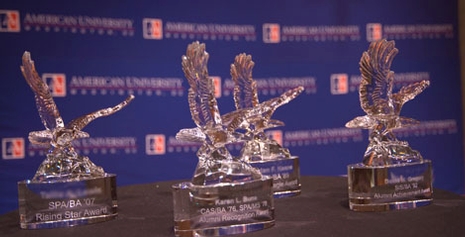 Announcing the 2013 AU Alumni Award Winners
American University is known for producing outstanding alumni who add value to their regional communities and impact the world globally, and this year, we celebrate six outstanding alumni for their achievements.
Message from Alumni Board President Chip Griffin, SPA/BA '94

It's hard to believe that summer is over and a new academic year is about to begin!

Alumni in the News
Betsy Fischer Martin, SPA/BA '92, SOC/MA '96, says goodbye to Meet the Press

Ben Lamson, SOC/BA '07, wins Wall Street Journal's Startup of the Year


Viachaslau (Slava) Bortnik, SPA/MPA '10, who is Belarusian, Marries Same-Sex Partner In U.S., Can Stay


Joe Vidulich, SPA/BA '07, joins Fairfax County Chamber of Commerce as Vice President of Government Relations


Caleb Smith, SPA/BA '07, joins the Office of the Speaker as digital communications director


Jeff Baxt, SOC/BA '79, interviewed by Rep Radio, an East Coast podcast network, about getting into acting


Ted Simon, Kogod/BS '71, named President-Elect of National Association of Criminal Defense Lawyers


John Boyer to Receive "Ripple of Hope" Award
John Boyer, SPA/PhD '89, will receive a prestigious award that honors leaders who demonstrate commitment to social change. Previous winners include President Bill Clinton, Vice President Al Gore, Bono, and Archbishop Desmond Tutu.
More News