Alumni
Point of View: Lonnie Bunch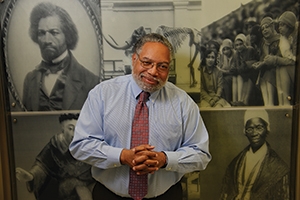 On Lonnie Bunch's first day as the founding director of the Smithsonian's National Museum of African American History and Culture in 2005, a security officer didn't recognize him, and refused to give him a key to his office.
Eventually, Bunch, CAS/BA '74, CAS/MA '76, borrowed a crowbar from a maintenance man and broke in.
"At that moment, I realized that no one was really prepared for this endeavor, not the Smithsonian, not the American public and maybe not even me," he wrote in Smithsonian magazine.
More than a decade later, everyone was ready when the museum opened on September 24.
The Smithsonian's 19th institution is housed in a 400,000-square-foot building in which more than 35,000 artifacts, ranging from Emmett Till's casket to Chuck Berry's red Cadillac, are displayed. For Bunch, shepherding the museum from concept to reality has been the accomplishment of a lifetime.
"Today, a dream too long deferred is a dream no longer," he said at the dedication. "What a grand and glorious day to open a museum that will not just tell of a people's journey, but also of the nation's story."