Alumni
AU's Stake In: Wesley Schauble, CAS/MFA '04
User Experience Art Director, Amazon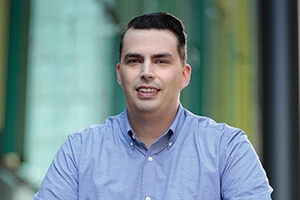 Working for Amazon is "like living in a small town but knowing all of the shopkeepers," says Wesley Schauble.
Schauble designs for Fire TV, Echo, and other digital products—as he puts it, "anything Amazon creates that has a power button." 
Unlike the typical buildings across Amazon's South Lake Union campus, his office is a converted laundry from the early 1900s. "They gutted the entire building and created an agency-like feel," he says. Under 14-foot ceilings with light pouring down from clerestory windows, the designers are all on the same floor, without barriers between them.
But there are barriers to the outside world. This former laundry is a highly restricted site where the company's future is unfolding. Teams here are busy ironing out the details of confidential products still in development.
"Unfortunately I can't say too much about what I do because it gives a lot away," Schauble says, adding that "it's so fascinating to be in a front row seat, seeing something about to happen for a company of this size. I feel incredibly honored to be a part of this."
During a career that has taken Schauble from DC to Boulder to San Francisco, he has contributed to projects ranging from designing wakeboards to hand-sketching all the branding for a pizza chain, with a client list that includes both the staid Brookings Institution and global super group U2.
He says moving to Seattle, where he met his wife and where his son was born, was the best decision he's ever made. Biking, hiking, and skiing in the dense green forests of the Pacific Northwest reminds this Hickory, North Carolina, native of The Land Before Time. "It's the most beautiful place I've ever lived."