Athletics
Soccer Goalie Solomon '10 Moves from the Field to the Meeting Room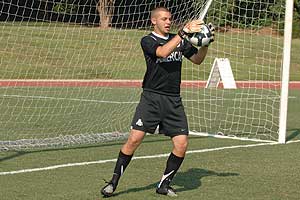 Zack Solomon's soccer-playing days are over—but his career in athletics is in its infancy.
A goalkeeper on the AU soccer team, Solomon '10 suffered a sixth concussion
last season, leading his parents, coaches, and trainers to impose an early "retirement" on the broadcast journalism major.

But Solomon, who turns 21 on August 31, isn't exactly kicking back in a rocking chair watching the sun set. He remains on the active roster as a sort of player-coach, and will serve as president of AU's Student-Athlete Advisory Committee this year. When the NCAA's version of the committee met in Denver in July, Solomon was there as the Patriot League's representative.
"He is approachable, always positive and full of energy—the kind of student-athlete that will represent both our department and the university very well on a national level," says associate athletic director Athena Argyropoulos, who encouraged Solomon to apply for the Patriot League rep position. "I felt that he would be an effective communicator and take on such a responsibility with vigor.'
Solomon's involvement in the adminis-trative side of collegiate athletics stems from his desire to become an athletic director, a position for which his soccer coach, Todd West, thinks he's well suited.
"It's a people business, and he's a great people person," West says. "We call him the mayor. He loves to shake hands and kiss babies and hang out with people."
Solomon's soccer career began at age four in his native Long Island. Following in the footsteps of his older brother, Alex, he positioned himself in front of the goal and vowed that nothing—nothing!—would get past him.
"I loved it from the beginning," he says. "You can't be afraid; you can't shy away from contact. You've got to be fearless. You're throwing your body around, and your total focus is on the ball. It doesn't matter who's in front of you, even if it's your teammate you've got to take them out."
That take-no-prisoners style of play eventually caught up to Solomon, a backup his first three years at AU. He suffered concussions when errant kicks connected with his head, and when his head smashed hard against the ground. After his junior year, it was clear: his career was over.
"I wish I could have played a little more, but it is what it is," he says. "I've come to terms with it. My main goal this year is to help my teammates win the Patriot League Tournament. We have the team to do it."
It's become apparent that Solomon's talent extends far past the playing field. He interned in the athletic communications office this summer, and will serve as the Student Government's director of athletics and recreation, advocating for the club sports.

"I love college athletics, I love being around kids," he says. "You meet so many different people, build relationships. Your voice can be heard. Being a Division I athletic director would be awesome."