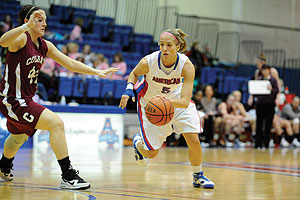 Less than 24 hours after one of the most successful seasons in American University women's basketball history came to a disappointing conclusion, the Patriot League coach and player of the year paused to reflect.
"I'll look at this as a team that persevered," Coach Matt Corkery says. "They were close knit, had good chemistry, and understood their roles. They really stuck together in difficult times, and a lot of it is based on their character and attitude. A lot of things make up a good team, and we had those things this year."
Chief among them was Michelle Kirk. The 6-foot junior forward led the Eagles in scoring en route to winning conference player of the year honors. With only two seniors leaving, Kirk knows AU's ultimate goal—a Patriot League Tournament title and berth in the NCAAs—will be there for the taking next year.
"This summer will play a huge part," she says. "The sum-mer is when players are made. We need to use the disappoint-ment at the end of this season to motivate us to work hard."
Kirk has developed steadily since a freshman year in which she played in all 32 games. Last season she led AU in scoring."She's a player that you have to guard behind the three-point line, but she can attack the basket," Corkery says. "She has an aggressive mentality. We do look to her for leadership in practice and in the locker room. She's matured into that role."
The Eagles got off to a rocky start in which they were ravaged by injuries, but rather than use that as an excuse the players rallied around one another and finished tied for first in the Patriot League with a record of 13-1—the most conference wins in the program's history. Their overall 22 victories were the second most AU ever has recorded.
That lone league loss came at the hands of Lehigh, which due to a complex tiebreaker hosted the league tournament title game.
Home cooking paid dividends, as the Mountain Hawks cruised to a 58-42 victory. But AU earned an invitation to the NIT Tournament for the third-straight year, the longest postseason streak in the program's history.
After battling Old Dominion for most of the game, AU succumbed 63-55.
"Every season has got to come to an end, and you hope it's on a high note," Corkery says. "Not many teams get to end with a win. We gained a lot of experience from playing in tough environments on the road. We're learning. Unfortunately, we're learning the hard way."