Athletics
Answering Dinner, Lunch, Breakfast, and Snack Bells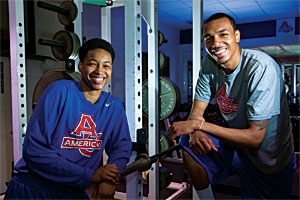 Troy Brewer and Geleisa George have a task this summer most of us schlubs sitting at our desks fighting that three o'clock urge to get peanut M&Ms from the vending machine envy.
They need to gain weight.
Brewer, a 6-foot-5-inch senior guard, and George, a 5-foot-9 sophomore, each want to add eight to 10 pounds of muscle to their wiry frames. Doing so requires a combination of lifting weights, limited cardio training, and eating the right foods.
Lots of them.
Brewer's goal is to consume at least 2,500 calories each day. He starts by downing three eggs with toast before his daily weightlifting session. A post-workout protein shake packs 600 calories, then it's off to lunch at Chipotle for a burrito. Bring on the sour cream.
A peanut butter and jelly sandwich with some fruit is his usual mid-afternoon snack, a mere appetizer for his dinner of either grilled chicken with vegetables or a turkey and ham sub.
Dessert? Another shake or ice cream. Can't go to bed hungry.
Troy Brewer's Typical Menu

Current weight: 183 pounds; target weight, 190 pounds; target calories, 3,000

Breakfast: Three eggs and toast, 450 c.
Snack: Protein shake, 600 c.

Lunch: Chipotle burrito, 970 c.
Snack: Peanut butter and jelly sandwich, fresh fruit, 500 c.

Dinner: Grilled chicken with vegetables or turkey and ham sub, 300 c.

Dessert: Ice cream bar or protein shake,430 c.

Approximate total: 3,250 calories
"My intake is a little less," says George, who made 23 appearances last year and was named to the Patriot League Academic Honor Roll in 2009–2010.
Her day begins with two eggs and toast, washed down with orange juice or a fruit smoothie. She snacks on a banana or a bag of peanuts before heading to — guess where — Chipotle for lunch.
An afternoon snack usually is 15 to 20 crackers with peanut butter. Grilled chicken is her dinner entrée of choice, and she finds room for some chocolate and muscle milk at some point during the day as well.
George's target weight: 140 pounds.
"I try to eat as much as I can but as healthy as I can," she says. "If you train a lot you're going to burn a lot of calories. But a lot of it is genetics."
Brewer is hoping to bulk up to 190 pounds. At the beginning of June, he tipped the scale at 183.

"People say that it's a good thing I can eat anything I want," Brewer says. "I don't have any complaints."

Geleisa George's Typical Menu

Current weight: 132 pounds; target weight: 140 pounds; target calories: 2,500
Breakfast: two eggs, toast, with orange juice or fruit smoothie, 450 c.

Snack: Banana and/or peanuts, 200 c.

Lunch: Chipotle burrito, 970 c.

Snack: Fifteen to 20 crackers with peanut butter, 700 c.
Dinner: Grilled chicken (2 servings) 240 c.

Dessert: Chocolate or muscle milk, 210 c.

Approximate total: 2,770 calories
Calories calculated on www.sparkpeople.com