Athletics
Television and Radio Deals Bring Athletic Department Increased Exposure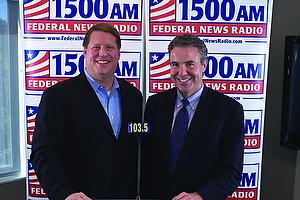 Eagles fever is in—and on—the air.
Landmark new partnerships with Comcast SportsNet, now the "Official Sports Network of the American Eagles," and WTOP–Bonneville International will bring unprecedented television and radio exposure to the AU athletic department in the coming months.
Eye on the Eagles, a magazine-style television broadcast, will air on Comcast SportsNet, comcastsportsnet.com, through mid-March. The show, available all season through Comcast's On Demand feature, is hosted by local sportscaster Al Koken, SPA/BA '74, and will focus on the men's basketball team and AU's athletic department.
"We'll have player profiles, behind-the-scenes segments," says David Bierwirth, associate athletic director for development and special events. "It's not just going to be talking Xs and Os. This is designed to give fans and alumni an inside look into the department."
The shows are scheduled to air at 4:30 p.m. on December 23, January 20, February 17, March 3, and March 17, and will be repeated at various times throughout those weeks.
In addition, AU will air all of its home men's basketball games on Federal News Radio AM 1500. Play-by-play veteran Dan Laing will call the games and cohost a weekly live-to-tape coach's show with Jeff Jones that will air Saturdays at noon.
"We don't want to do the typical coach's show where two people are sitting there just going back and forth," Jones said. "It's a positive for our program, and it definitely will be nice to get the word out not just about AU basketball, but the entire AU community."
The timing of these agreements, coming on the heels of the men's basketball team's magical run to the NCAA Tournament last season, is vital.
"These deals are great for our department because they provide exposure for our programs and allow us to highlight all of the wonderful things that our coaches and students are doing," Athletic Director Keith Gill said. "These partnerships will create a unique platform for the university and allow us an additional avenue to communicate all of the outstanding things going on at American University."