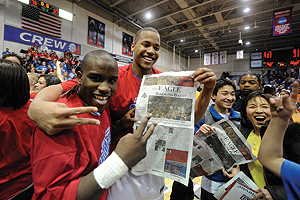 After the final seconds had ticked away on the game, their season, and their collegiate  basketball careers, Garrison Carr, Brian Gilmore, and Derrick Mercer walked off the Wachovia Center court defeated—but not before leaving something important behind.
A legacy that will endure forever.
When the trio and starting center Jordan Nichols arrived on campus four years ago, AU men's basketball had never tasted NCAA Tournament competition. While this year's postseason run ended in the same fashion in 2008, with a spirited but disappointing first-round loss, the past two seasons of Eagles basketball have been a trailblazing joy ride for all involved.
"There's no question that our guys left it all out there on the court," head coach Jeff Jones said after AU's 80-67 loss to Villanova on March 19. "As I told these guys in the locker room, I'm tremendously proud, not just of their effort tonight, but of the season, and for these three seniors and the other seniors, I'm just extremely proud of what they've meant to the program. It's going to hurt to see them go."
Coming off its second straight Patriot League Tournament championship, the NCAA Tournament selection committee did AU no favors, sending the 14th-seeded Eagles to play powerful Villanova in its hometown of Philadelphia. But hundreds of AU fans made the drive up I-95, and when the buzzer sounded signaling halftime, AU led by 10. The Eagles extended their lead to 14 before the Wildcats began clawing their way back into the game by exploiting their advantage inside. Foul trouble and fatigue contributed to AU's demise, and much like last year against Tennessee, they faded down the stretch, losing by a margin that didn't tell the full story.
Sitting at the podium after the game, answering questions from the media, the realization of that end began setting in for Carr, Gilmore, and Mercer.
"Obviously this didn't end the way we would have liked, but I'm really proud
of the team and the other group of seniors that got us this far," Gilmore said. "There's something to be said for getting back here twice in two years. That means a lot to us."
And to the entire AU community.