Alumni
Patrick Bellegarde-Smith, SIS/MA '70, SIS/PhD '77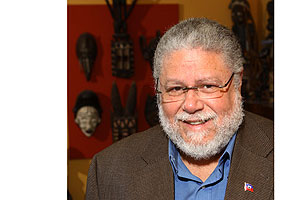 The dinner table was where Haitian history was taught in the Bellegarde home and a young Patrick Bellegarde-Smith learned from a master.
"It was a very patriotic household," he recalls. "My grandfather was born on the same day as the Haitian flag"—an often-repeated family point of pride.
His grandfather, renowned Haitian diplomat and philosopher Dantes Bellegarde, made his own contributions to Haitian pride and history. In a career that spanned six decades, Bellegarde served as the Haitian ambassador to the United States, France, the United Nations, and the League of Nations.
Taking a cue from the family patriarch, Bellegarde-Smith, 62, immersed himself in history, but forged his own trail to the U.S. Virgin Islands and then to the United States. The international expert on Haiti and its Vodou religion is a professor at the University of Wisconsin–Milwaukee.
When the earthquake hit Bellegarde-Smith was in Cuba en route to a speaking engagement at the French Institute of Haiti.
In the survivors who just kept on going, "I saw history passing before me," he says. He wasn't surprised when, several days after the tremors, CNN reported on a parade that included praying and singing in the streets.
The nation has a history of making the best out of a bad situation, he says.
"Haitian slaves sang while on the auction block. Outsiders couldn't understand that, [believing] they must love slavery. But what do you do when you have no choice? I'd rather be singing, too."