Alumni
Kenneth Merten, SPA/MPA '86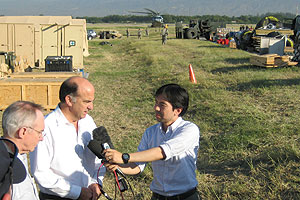 On January 12, U.S. ambassador to Haiti Kenneth Merten and his family were busy with their daily lives when the earthquake struck, killing 230,000 people and leaving a million more
homeless.
"I was in the house," he remembers. "Lt. General [Kenneth] Keen had arrived, and we were going to have a reception that evening to introduce him to his counterparts from the Haitian government. We had just sat down when the earthquake struck, and we ran out of the house. I was screaming for my wife and daughters and dog—all were upstairs. You couldn't get your balance because the earth was shaking so much. I could see the brick and cement house shaking.
"Often people have a terrible stereotype [of federal employees], but I've seen a lot of dedicated diplomats, aid professionals, and soldiers out there. We've evacuated more than 16,000 Americans and a lot of people who worked to make that happen are State Department and consular. They're working 20-hour days and sleeping in the office. [Despite] having lost everything, they have to make it happen for others."
Since the earthquake, Merten's routines have changed.
He used to talk mostly to the Haitian press; now, he's speaking with reporters from all over the world. And his wife and two daughters are in D.C., after being evacuated with other "non-mission critical personnel . . . A lot of folks are doubled up," says Merten, who now shares his house with colleagues.
This is his first post as an ambassador, but it's his third tour in Haiti. In 1988 and 1989, Merten was vice consul issuing immigrant and tourist visas. When he returned from 1998 to 2000, he was "economic consular looking out for U.S. investments, encouraging those looking to invest." Between those posts, he worked as a special advisor to the Clinton administration.
"We want to work with the Haiti government to make sure whatever we do helps them take control of the situation," says the ambassador. "I think 13 of the 15 ministries physically don't exist anymore, and a lot of people were trapped or died . . . So, they have their challenges.
"One thing I've found is this misconception about the Haitians [that they] were going to turn violent and what would provoke them . . . The reality is the Haitian people have behaved with tremendous grace and dignity. Most have lost everything they ever had, and they've lined up peacefully for food; they're dealing with huge levels of uncertainty, a lot of personal loss, and I'm not sure how many other nations on the planet would deal as well. "