Alumni
Phil McHugh, SPA/BA '08, SPA/MS '09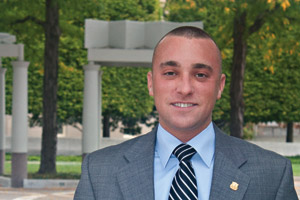 "I always wanted to be a cop. There are pictures of me 'locking up' my grandparents when I was a little kid," says Phil McHugh. In June he traded in his suit and tie to attend the very police academy his recent policy work helped reinvigorate. He will graduate in December.
"I thought I knew about criminal procedure, the Constitution, and people's rights. But it's really different [in the academy] learning about the responsibility you have when you're taking away somebody's freedom," says the double alumnus in justice.
A go-getter by any account, McHugh took his first law enforcement class freshman year. After one session in which a Metropolitan Police Department inspector spoke, he asked: 'I'm really interested in MPD, I love the city. Can I come follow you around at work . . . and get to know what MPD does?"
A few months and an internship later, and he had launched his short but already accomplished career.
McHugh found a mentor in Professor Josh Ederheimer, SPA/BA '95, a former MPD officer turned researcher, while enrolled in his Introduction to American Policing course the following semester.
In 2007, Ederheimer called McHugh with news that Cathy Lanier, D.C.'s new police chief, had asked him to come work for her, and Ederheimer wanted McHugh to work for him. His excitement spilled out when telling his suburban Philadelphia, school teacher parents: "I'm going to work for the MPD, the department that protects the capital of the free world."
As deputy chief of staff to Ederheimer at the police academy (a job he held for just five months in 2007 while a junior at AU), McHugh helped revamp the academy, which is located in Anacostia.
"We got the place painted, we held off-site brainstorming sessions with staff, and we took them to the home team locker room at RFK stadium," he says, all with the goal of reenergizing the institution. "And we did."
McHugh was assigned to spearhead a nationwide benchmarking initiative that would identify best practices in police academies across the country. He sent the entire staff of the academy in small groups to 10 police academies across the country and the Royal Canadian Mounted Police.
Three months later, after having seen his research implemented at the academy, Ederheimer asked McHugh to join him in MPD headquarters in downtown D.C., where Ederheimer had been promoted to assistant chief for professional development.
"I don't like boasting, but I am very proud that at 19, an assistant chief of police in the nation's capital trusted me enough to have me on his staff and to lead some of these projects," McHugh says.
In November 2008, Chief Lanier pulled McHugh onto her personal staff. He was charged with coordinating departmental operations, overseeing threat assessments and intelligence operations, and serving as Lanier's liaison to the community and other government offices. Notably, McHugh was asked to procure and sell the special presidential inaugural badges that 15,000 officers from across the country would wear while working at the landmark event.
His efforts raised $900,000, and the proceeds went to the District's Crime Solvers program, which rewards citizens who provide information that may lead to solving a crime. He has the badge proudly displayed in a frame in his apartment.
If McHugh's policing career unfolds like his first few years have, he's likely to add more medals and badges to his collection.