Alumni
Zandria Conyers, WCL/JD '02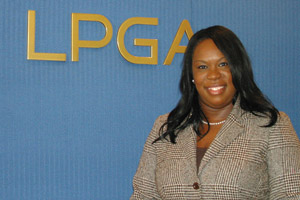 "I've always been into extreme, off-the-cuff sports," says Zandria Conyers, who heads the legal department of the Ladies Professional Golf Association (LPGA). She knows both her mind and her sports, having competed in boxing and marathon training while at law school.
She began her legal career in a traditional D.C. mold — with a position at the Federal Trade Commission.  After a move to Atlanta, however, she became your "typical" lawyer-roller derby competitor — at her day job with the Georgia governor's Office of Consumer Affairs and as a blocker for the Atlanta Rollergirls when off duty.
When the team needed legal help she became their head of business and legal operations, and in the process she learned how the corporate world merged with the sports and entertainment worlds.
In 2008, she joined the LPGA.  "It was a great way to combine my love of professional sports with my love and interest in the law," she says of her work there. "It's 90 percent business, 10 percent law, and 100 percent sports."
Conyers's unconventional path to a career she loves is no surprise when you hear of her mother's career determination.
While growing up in Florida, Conyers watched her mother persevere to become one of the first black female attorneys as a criminal defense lawyer. "She was a trailblazer and pioneer in setting a path for women of color," Conyers says.
"It's my biggest accomplishment to have a job I am committed to [where I] know that I'm making a meaningful contribution.
"I think it gives my children a sense of pride to see their mom try to have a career and to be involved in an area that is not traditionally held by a lot of women and women of color."