Alumni
Michael Kershner, SOC/BA '04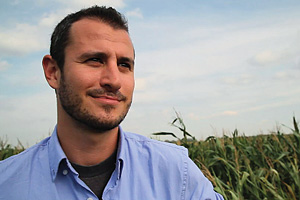 In 1920 Joseph Kershner, a successful tailor with his own shop in a pretty and peaceful New England town, received a desperate letter from his wife's family. The scourge of war and rampant anti-Semitism in Eastern Europe were threatening the family's very existence.

Kershner didn't blink. Leaving his wife and their seven children, he began a harrowing journey to the Ukraine that eventually resulted in the relocation of 17 loved ones to America, where overt religious persecution became a distant memory. Nearly a century later, one of his descendants is bringing his remarkable story back to life.

"In movies you always have heroes," says Mike Kershner, Joseph's great-grandson. "They're kind of bigger-than-life characters. He was just a tailor in Burlington, Vermont. He really had no background or ability other than his own will and charisma."

Kershner's life now is consumed by Joseph's. A photographer in Hollywood, Kershner spends most of his free waking moments working on a documentary and feature film script about his great-grandfather's odyssey.

"It's always been this kind of mythical story in my family," Kershner, 29, says. "My uncle died a few years ago, and he was the one who was really interested in this story. I decided to take the torch from him."

He's run with it. Kershner and his writing partner, friend, and classmate Zack Sherwood, SOC/BA '04, knew they couldn't do the story justice without reliving Joseph's journey firsthand. They pitched the project to the masses on the social media-microfinancing site Kickstarter, garnering 150 donations of as little as $5 to fund a 30-day trip to Europe. In three months they raised nearly $10,000.

Landing in Belgium, they traveled the reverse of Joseph's route, visiting the Ukrainian town of Lutsk, where Joseph was born, before flying home from Warsaw. Snapping photos and shooting video, they documented their entire trip, which included visits to museums and interviews with historians and members of various Jewish communities. Along the way, they even climbed through a window into a prison where they believe Joseph once was held.

When they returned home in September, Kershner and Sherwood began producing a full-length documentary, which they hope will lead to funding for the feature film project.

Upon his return, Joseph was not so lucky.

"He died when he was 56," Kershner says. "In jail in Europe he got asthma from the horrible conditions. He ended up being sick for the last 10 years of his life and dying basically of bronchitis."

The project is called "Dust of Europe," a term coined by Joseph's son Morris, Mike's grandfather.

"He talked about how Joseph could never shake off the dust of Europe," Mike says. "We don't want to just make a documentary or a script; we have ideas of turning our Web site into a forum for people to tell their stories about escaping from Europe. "This is the best thing I've done in my life so far."

Joseph would be proud.