Alumni
Jo-Ann Geffen, CAS/BA '68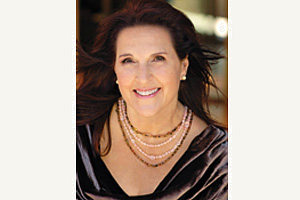 Betcha didn't know that Rick Springfield's 1981 megahit, Jessie's Girl, was inspired by a woman whose boyfriend was named . . . Gary.
The Australian rocker fell for a woman in his Pasadena art class — until he discovered her boyfriend was also enrolled. "His name wasn't Jessie; it was actually Gary but that name didn't fit in the song," says Springfield of the Grammy-winning tune. "Besides, Jessie is tougher sounding.
"Nothing happened with her, and the song lasted longer than the relationship would have, I'm sure."
Springfield is among 101 songwriters, spanning genres and generations, featured in veteran Hollywood publicist Jo-Ann Geffen's new book, Chicken Soup for the Soul: The Story Behind the Song. The book showcases a diverse lineup of artists — Paul Anka to Kanye West — and the inspiration behind their favorite chart-topping tunes. Even the most devoted music wonks would be surprised to learn, for example, that Huey Lewis's The Heart of Rock & Roll is a nod to Cleveland, or that Barry Manilow dreamed the music and lyrics to One Voice, putting pen to paper after he awoke.
"Their stories speak to the power of music, and the importance of expressing yourself," says Geffen of the book, part of the popular Chicken Soup series, which includes more than 200 titles. Chronicling songwriters' stories also inspired first-time author Geffen — to write another book. President of JAG Entertainment, a Los Angeles-based PR and celebrity booking company, Geffen's currently working on a book about the best advice entertainers, politicians, and newsmakers have received.
She says her experience as a publicist and manager to such acts as the Commodores and David Cassidy have helped hone her writing and interviewing skills.
"In this business, you've got to be a good listener, and you have to surround yourself with people you respect. I'm a terrible liar so I have a hard time selling something — or someone — I don't genuinely believe in."