Alumni
Allison Sosna, SOC/BA '07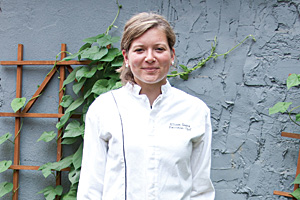 As executive chef of contract foods with Fresh Start Catering and D.C. Central Kitchen (DCCK) — located in the country's largest homeless shelter — Allison Sosna's duties go beyond dicing and slicing.
When she's not in the kitchen, Sosna is teaching her sous chef to use a computer so that he can further his career, meeting local farmers as they deliver the day's produce, and helping kids discover new, healthy foods.
"The idea is helping people through food," she says. "It's extremely fulfilling."
The social enterprise arm of DCCK, which serves 4,500 meals daily, Fresh Start Catering is staffed by graduates of its culinary job training program. Fresh Start, which partners with dozens of farms in the area, caters everything from business breakfasts to plated dinners. Its clients include nine area schools.
"When I started with the schools, we made brussels sprouts," Sosna recalls. "No one thought they would eat them, but I said, 'We're going to sell them as mini cabbages' and sure enough, one of the kids said, 'I love brussels sprouts.' This sixth grader was sold. Just by making food accessible and cooking it correctly, you're able to win kids over."
Sosna, who's been at DCCK for nearly three years, has seen the staff swell from seven to almost 50. Most of her responsibilities revolve around oversight of school food programs. Her goal: to "create a school food model that we can replicate and feed all the kids in D.C."
It was while studying abroad in Italy that Sosna chose her life's work. "Italy shook me to the core, made me realize what I wanted to do. I had to figure out this food itch," she says.
Upon her return to D.C., Sosna volunteered — yes, volunteered — at Chef Geoff's restaurant near AU. "I started going there one day a week, peeling carrots and hanging out," she says. After graduation, she attended culinary school and spent several years working in fine dining.
Through her work at popular Washington eateries, Sosna made lots of contacts, including Barton Seaver, a National Geographic fellow and D.C. chef who encouraged her to apply for the DCCK job.
"The full circle of food that we get to see every day is what makes me tingle," she says.