Alumni
Shannon Henry Kleiber, SOC/MA '91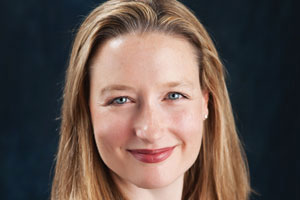 Juliette "Daisy" Gordon Low might be the most interesting woman you've never heard of.
Eccentric, aristocratic, and nearly deaf, Low founded the Girl Scouts of America in 1912 after her husband of nearly 20 years left her for another woman and then died suddenly. The Savannah-born, London transplant found renewed purpose in her 50s by designing an organization to empower girls by promoting self-reliance, confidence, sisterhood, and service.
Though the Scouts have shaped generations of girls — more than 50 million American women donned green berets and sashes as children — Low was all but omitted from the history books.
Until now.
The 100th anniversary of girl scouting has sparked interest in the group's charismatic leader and given rise to several new well-reviewed books. Among them is Shannon Henry Kleiber's On My Honor, which was praised by the Wall Street Journal and Washington Post in advance reviews.
Kleiber, herself a former Brownie, grew curious about Low's life while leading her daughter's troop on camping trips and heading the troop's popular cookie drives in their Madison, Wisconsin, neighborhood. "There hadn't been an adult biography written about Daisy since the 1950s, so I found a few things about her, but they were very old," recalls the former Washington Post reporter.
To research her book, Kleiber travelled to Low's childhood home and the Girl Scout's New York City headquarters. "Daisy was in her 50s when she reinvented herself, so she always encouraged girls to be independent. She wanted them to be knowledgeable and informed about the world and to serve others without expecting something in return.
"She also fostered a love of the outdoors — something that's easily forgotten in this age. It's important to remember how profound it can be to look up at the stars."
Kleiber is buoyed by how relevant Low's lessons are, 100 years later — especially in the wake of recent accusations by an Indiana lawmaker that the Girl Scouts are a "radical group" that promotes homosexuality and abortion.
That's hogwash, according to Kleiber. "Daisy opened the organization to girls of all different races and backgrounds and, because of her deafness, was especially attuned to helping girls with any kind of disability. The Girl Scouts have always been incredibly inclusive," she says.
"For Daisy, it was all about the sisterhood."