Alumni
Wilda Morris, SPA '61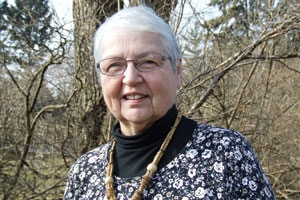 Prize-winning writer Wilda Morris wanted to help make poetry more popular.
Thus was born Wilda Morris's Monthly Poetry Challenge. On her blog, at wildamorris.blogspot.com, she puts up a prompt—a poem, say, or a photo of a Mexican fruit standor scattered crayons—to serve as a starting point for readers'inspiration. The best of the submissions she receives gets published on her page.
"The writing of poetry can free creativity," Morris says. "It can be healing."
The prompt for Morris's own work was pain. Now 73, she got serious about writing only after the death of a grandchild. She needed a way to cope with her grief, and poetry filled that need.
Morris started writing poetry in high school, but with graduate school, work, and raising five children, there was little time for verse. After AU, she earned a PhD in political science at the University of Illinois, and she got an MA in Christian education and a master's of divinity from Northern Baptist Theological Seminary, where she also taught. And then there was her work at nonprofit peace and justice groups.
Since those busy days, the poet has made up for lost time. A past president of the Illinois State Poetry Society whose work has been widely published—she's won numerous awards and received a Pushcart nomination—she also is the author of Szechwan Shrimp and Fortune Cookies: Poems from a Chinese Restaurant. (She likes writing in restaurants, she says. It frees her from distractions, and it gives her a chance to observe people.)
Sometimes when she starts a poem she knows its subject, other times not. In her work she explores issues or feelings or images. It's nice if there's a surprise ending. Paraphrasing Robert Frost, she says, "If there's no surprise for the writer, there's no surprise for the reader."
Case in point, her poem "Six Years in Sri Lanka," in which she writes:

I settled down for six years
in the Sri Lankan highlands,
married a Sinhalese artist.
We carried paint
and canvas to the rainforest,
painted bromelaids, epiphytes,
and the purple-faced leaf monkey.
Morris wrote her dissertation on Sri Lankan politics at the University of Illinois, but as she concludes in the poem, "These are just a few/adventures in that other life/I never lived." She's never actually visited Sri Lanka.
When she read the poem to her young grandson, she recalls, his eyes bulged out, and when she finished, he cried, "That's NOT what you want to hear from your grandma!"
Everyone's a critic.