Class Notables
Verne Newton, SPA/BA '67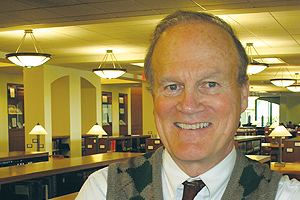 Verne Newton was hitchhiking through Africa on 50 cents a day when he ran into a U.S. senator. It was the mid-1960s, and Newton had left college to see the world from London to Capetown. But after he met the senator, he saw something else: an image of himself back in the United States, on Capitol Hill. It didn't seem so unreachable.
"I'll go back," he thought, "go to school in Washington because that's the capital for politics, and I'll soak that up and eventually return to Iowa and run for office."
Like most youthful plans, things didn't quite turn out that way. Instead, the push and pull between scholarship and politics became a kind of cyclical rhythm that shaped Newton's life.
"I've really had multiple careers," says Newton, who has worked for several presidents, won regard as a Roosevelt scholar, headed a top Africa post at the U.S. Agency for International Development (USAID), served as director of the Franklin Delano Roosevelt Presidential Library, and is now director of the library at Marist College in Poughkeepsie, New York.
The goal he set for himself as a young traveler in Africa brought him to AU, where he started working, as planned, on Capitol Hill. But his philosophy and history courses drew him to the library and the prospect of a scholarly life. In 1967 he headed to Syracuse University for a doctorate in European intellectual history.
This, though, was the late 1960s. Even in the calm of the library he heard the call of politics. Newton shelved the doctorate. By 1976 he was back in Washington with the Carter administration, working for USAID and serving on several presidential delegations. His career trajectory began to seem clear. His interest in politics had melded with his interest in the world.
Fascination with Roosevelt
But take a closer look at an old snapshot of the young backpacker—he's toting a biography of Franklin D. Roosevelt. Newton's fascination with FDR's era drew him once again away from government and back to the library.
This time, too, AU played a role. He plunged into a career as a scholar and writer who could often be found at AU's library researching a book on spy Kim Philby (Cambridge Spies). It would be followed by an award-winning PBS documentary on Roosevelt confidant Harry Hopkins (Harry Hopkins: At FDR's Side) narrated by Walter Cronkite. By 1991, Newton was named director of the Franklin Delano Roosevelt Presidential Library, editing another book (FDR and the Holocaust), teaching as an adjunct history professor, and creating one of the nation's first digital libraries.
So he had come full cycle. Was he finally settled into a scholar's life? Well, not quite. Politics reached him even in the tranquility of Hyde Park. Newton often found himself in the midst of world leaders gathered in the bucolic setting of the library for meetings and conferences, including the 1995 Clinton-Yeltsin Summit on Bosnia. Then, in 1998, he was drawn back to the Washington maelstrom for a senior position in USAID's Africa bureau.
These days, he's combining scholarship and politics in the quiet of the Hudson Valley. Since 2003, Newton has been director of the Marist College Library, located near the FDR library, where he explores his fascination with politics through his scholarship. He's currently writing a book on Roosevelt, Churchill, Stalin and the war on the Eastern Front. "What I want to do now," he says, "is write books and spend the rest of my life in my beloved libraries."