In the Community
Banking on Food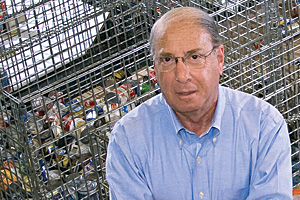 The need is staggering. The Capital Area Food Bank, which serves more than 700 D.C.-area hunger-relief organizations like food pantries, kitchens, and shelters, helps feed 478,000 area residents — a 25 percent increase since 2006.
"Over my 40 years" in the field "I've never seen a time quite as troubling as now," said Lynn Brantley, president and CEO of the CAFB, which will distribute about 30 million pounds of food this year.
Half of that food will be fresh produce, part of a push by the food bank to provide nutritious meals to those in need.
But less than a year before it moves to a new facility that will more than double its storage capacity and greatly expand the services it can provide, CAFB finds itself in the unprecedented position of launching an emergency $1 million campaign to help pay for that produce.
Otherwise, for the first time in the food bank's history, it will have to charge its member agencies a 10-cent-per-pound fresh produce fee, a move Brantley acknowledges will severely strain the local organizations that depend on it for food. Many of those organizations are reporting a 30 to 100 percent increase in demand for food during the past couple years.
Brantley describes the emergency situation as a "perfect storm" of rising demand and skyrocketing costs, with the food bank's transportation and food costs jumping 30 percent in the past three months.
[Editor's note: The Washington Post reported on August 23 that William E. Conway Jr. of the Carlyle Group had donated $1 million to eliminate the fee the food bank had been forced to charge its member groups for produce.]

The Face of Hunger
Who are the people who depend on the food the CAFB and its member agencies provide? Increasingly, they are members of the middle class squeezed by unemployment, high housing costs, and a stalled economy, Brantley said.
But in the main they are poor. In the Washington, D.C., area, where one in six residents is at risk of experiencing hunger, 78 percent of all households served by the CAFB have incomes of less than $35,000 per year.
Need is growing, Brantley notes, precisely at the time when Congress is proposing $800 million in cuts to nutrition programs.

Food for Kids
Nationally, 26.5 million children under age 18 are at risk of suffering from hunger.
One in five children in the metropolitan area is at risk of experiencing hunger—a figure that jumps to one out of two children under age 18 in the District of Columbia, according to U.S. Census figures.
That need is addressed by one of CAFB's most important initiatives, the Food for Kids program, which serves all of D.C., Northern Virginia, and Prince George's and Montgomery Counties in Maryland.
Kendra Rowe Salas, SIS/MA '04, director of Food for Kids, manages a 12-person team. Through the Kids Café, her program serves about 60 community sites, or about 1,800 children per day. The Weekend Bag Program, which provides children with food for the weekend, serves 1,500 children through 35 community sites.
The Kids Café Program has three coordinators for each region, one of whom is Marie Morse, SPA/MPA '11. The former Peace Corps volunteer, who had also worked part time at the food bank, is the Food for Kids program associate and volunteer coordinator for Northern Virginia, working mostly with 30 Kids Café sites in Northern Virginia.
For Sarah Lieberman, Kogod '05, a senior account executive at LM&O Advertising in Arlington, Virginia, helping raise funds for such programs is one of the most satisfying parts of her job. Lieberman is now putting together a brochure to help get the word out about the food bank's variety of services. And her firm has also provided pro bono help to develop the brand identity for the food bank's annual Blue Jean Ball, a major fund raiser.

A Firm Foundation
Running a food bank is labor intensive. Donations often come from the back of the pantry, and so volunteers — the food bank depends in part on the work of 14,000 of them — must inspect every box, can, and jar for expiration dates and swollen seams.
Once that's done, everything must be sorted and shelved so that agencies can find what they need.That kind of front-line commitment is as essential as having a highly qualified professional staff. But just as important to a food bank's success is a committed board of directors.
Deborah Flateman, CEO of the Maryland Food Bank, which covers the Maryland counties not served by the CAFB, agrees with the critical role an engaged, professional board of directors plays in making a food bank successful.
"This is a $38 million business," Flateman said of the Maryland Food Bank. "That's not like collecting food in a garage." The Maryland organization distributed 18.6 million pounds of food to 800 soup kitchens, shelters, and other sites in fiscal 2010.
Also critical to success, Flateman said, is the relationship between the organization's CEO and board chair.
At the Maryland Food Bank, that's Philip Andrews, WCL '77. "There needs to be a strong relationship, with good communication," she said. Andrews, who is finishing his first year as chair, is "totally committed to elevating our board to the highest level. He's got his eye on the horizon."
"There's actually a life to your board participation," noted Shari Freedman, SIS '82, the San Francisco Food Bank's vice chairperson of the board. Freedman, who is also chief financial officer for Worldwise, praised the engagement and innovations of her food bank's board while noting that it's important to understand that a board member's enthusiasm can undergo a life cycle. "You can bring a lot of enthusiasm, but you can get stale, too . . . I think it's good for boards to get new blood and look at things differently."
Certainly that's been true at the CAFB, said longtime Giant VP and food bank board chair and member Barry Scher, SPA '65. Ramping up the involvement of the board he counts as among the food bank's most important achievements in recent years.
It also helps to have powerful friends, especially when you're trying to raise millions of dollars for a new facility. And Scher, who is now a principal at Policy Solutions in D.C., has what the Washington Post once called the best Rolodex in Washington.
"I went out and got Abe Pollin, Bill Marriott, Don Graham—because I know them like that—to be cochairs of the capital campaign," Scher said of the late philanthropist and Washington sports magnate, Marriott Corporation leader, and Washington Post Company chair. "They brought in millions of dollars."
Funding for the $37 million building, which is paid for, came from a variety of sources. In addition to donations from the cochairs, William Conway Jr. of the Carlyle Group and his wife, Joanne, donated $5 million. The District of Columbia's Department of Housing and Community Development gave $15.8 million, the federal government $3.1 million, the state of Maryland $1.8 million, and the Kresge Foundation $1 million.

New Building, New Phase
The 125,000-square-foot distribution center at Puerto Rico Avenue is just down the road from the current building, an aging 48,000-square-foot warehouse, located in northeast D.C. The food bank also has a 12,000-square-foot distribution center in Lorton, Virginia.
When the office and warehouse operation is moved in May 2012, not only will warehouse capacity be expanded and bays added to make shipping and receiving food more efficient, but a commercial kitchen will allow preparation of food for Kids Café sites that lack kitchens.
"We want to try to be a hub for other food banks," Brantley said. "We'll take anything Feeding America [the national food bank umbrella group] has to offer, and bring that into the warehouse and then we'll ship it out to other food banks. And then maybe we can get chicken from Virginia or Eastern Shore, Maryland, or maybe we can trade with somebody in Florida for fresh vegetables in the wintertime. It'll give us a bargaining chip to work with other food banks so that we can pull in even more food."