Law
Stirring a Political Stew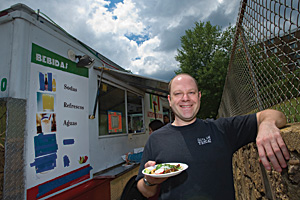 Baylen Linnekin thinks you should be able to buy, sell, or consume pretty much any kind of food you want.
That's why the soft-spoken Washington College of Law '09 graduate founded the new advocacy group Keep Food Legal.
"We're dedicated to the proposition that people have a right to grow, raise, buy, sell, cook, and eat the foods of their own choosing," Linnekin, CAS/BA '97, says of his nonpartisan organization. "There are plenty of people telling people what to eat or what not to eat. That's not our gig. We're about defending everyone's right to make those choices on their own."
When it comes to equal-opportunity eating, Linnekin lives the brand: over the course of a weekend at a spring conference in Chicago he ate sweetmeats and oysters and generally indulged in high-end dining. On the trip home he feasted on a quarter-pounder with cheese (and yes, he had fries with that). That night's dinner: a Twinkie.
Good thing he runs and works out three days a week at the AU fitness center. His typical lunch, though, is half a sandwich with some seltzer water.
For Linnekin, memories of his formative years in Beverly, Massachusetts, are mixed with food — baking cookies and bread with his mom, reading comic books over toast and eggs at a pharmacy lunch counter.
"When I was starting law school I was trying to figure out how can I devote myself to something I care about deeply and the more I thought about it I figured, 'Wow, I really love to cook and eat, and I care about this issue deeply. And it turns out that there are a lot of people coming from all sides who are trying to squelch what chefs can cook with, what people can purchase in the store, what farmers can raise, and how they can raise it. And there really isn't a grassroots membership organization that's dealing with this.' So the more I thought about it, I thought, 'Bingo, there's my calling.'"
The cook, food writer, and food libertarian who sees the creative art of cooking stifled by regulations he thinks are killing both tradition and innovation asks, "Who's fighting back? We are. Keep Food Legal is."
In constitutional law classes — in addition to his degree from WCL he earned a master of laws in agricultural and food law at the University of Arkansas School of Law — "I saw that . . . one needn't look too closely to see that a large part of modern jurisprudence — much of it based on Supreme Court decisions that I not-so-humbly argue were decided incorrectly — comes from cases that deal with things like growing wheat, selling a milk substitute, and regulations impacting bakeries . . . Seeing food's key role in shaping the Court's thinking was an eye opener."
It was while studying law in Arkansas that Linnekin discovered another eye opener. There he encountered the quaint practice of cow-sharing. Buying raw milk is generally illegal in Arkansas, but consumers get around that inconvenience by buying a share in a cow, which entitles them to free raw milk.
Attending a spring Capitol Hill rally to protest an FDA raid of an Amish farmer who sold unpasteurized milk, Linnekin got to relive his Clinton country days and sip some of the forbidden beverage.
"And I'm not a milk drinker," he admits. "I don't drink pasteurized milk or raw milk for the most part. I just never grew accustomed to it."



Linnekin on Food Choices
From "Dr. Claw Versus Johnny Law,"
www.mademan.com
"Both by my estimation and his own, Dr. Claw, a self-described 'lobstah pushah,' does things that are interesting, not wrong. Sometimes, though, the interesting things he does happen to be illegal. That includes boiling and preparing lobster rolls in a small nautical-themed apartment kitchen and selling them on the streets of Brooklyn without the proper city inspections and paperwork."
From "Mopping up the raw-milk mob," May 13, 2011, Washington Times
"No one disputes that pasteurization helps kill harmful pathogens. But where the FDA claims to see a mountain, most states see a molehill. Nearly 25 years after the FDA policy was instituted, just 11 states ban raw milk within their own borders."


From presentation given as part of the Southern Food and Beverage Museum Talks Series, Washington, D.C., January 2011
"[W]e all know food scolds go berserk over fast-food restaurants, and tend to believe that doing totally weird things to them will put a dent in obesity rates. What weird things? Things like exorcising crappy toys from Happy Meals—toys that kids lose or break in five minutes—will make the kids skinny."

Suggested Reading
Mindless Eating, by Brian Wansink. The Cornell University professor is also a member of the Keep Food Legal board. How making small changes in your eating and diet can help you take off weight.
Rum Punch & Revolution: Taverngoing & Public Life in Eighteenth Century Philadelphia, by Peter Thompson. The central place of taverns as a marketplace of ideas.
Eating in America, by Waverly Root. Highly recommended by Linnekin. He has an original copy.
Books by Anthony Bourdain, whom Linnekin interviewed for his first real article in the area of food. Premise of the article: Bourdain seemed to have libertarian leanings on different issues. Was he a libertarian? Answer: no.