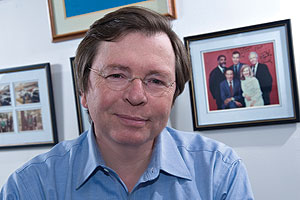 Amid the grim statistics that litter the ominous journalism landscape—5,900 newsroom positions cut in 2008 alone—flickers a glimmer of hope: flourishing nonprofits producing exemplary stories.
At the nexus of this new world order of reporting sits American University's School of Communication's Investigative Reporting Workshop—recent winner of a MacArthur Foundation grant. With a bifurcated mission of producing top-rate journalism while incubating new models intended to shape the future of the craft, the barely two-year-old workshop already has established itself as a key player in the changing journalistic ecosystem.
"There is a wild kind of adventurism going on. It's really a thrilling time," says SOC professor Charles Lewis, the workshop's cofounder and executive editor. "I don't know what it all means, but we're clearly on the cutting edge of whatever is unfolding here. I hope that we help shape the future of journalism. If we do anything less, I'll be disappointed."
If anyone can figure out where investigative journalism is headed, it's Lewis, a former 60 Minutes producer and the Yoda of journalism nonprofits. Two decades ago he founded the Center for Public Integrity, a nonprofit dedicated to "producing original investigative journalism about significant public issues." It was a game changer. No longer would investigative reporting be the exclusive purview of big-city dailies and television networks, whose executives often targeted the investigative desk when they set out to trim newsroom fat.
"Investigative reporting is very expensive, and it takes a lot of time and reporting firepower," said Rem Rieder, editor and senior vice president of American Journalism Review. "It's one of those things that's very vulnerable as traditional news outlets face economic problems. If it's a question of whether I'm going to keep three investigative reporters or staff the school board beat, city hall, and the cop shop, you can see where that choice is going."
Lewis went on to found other journalism nonprofits, and today there are upwards of 30 similar organizations churning out investigative news.
"There's a diaspora of immensely talented journalists with nowhere to work," he says from his New Mexico Avenue office in Washington, D.C. "They're starting these things themselves and becoming publishers. It's happening directly because of the implosion of commercial newsrooms. The profession and business of journalism are in crisis, so it's our job to assist."
At the School of Communication Lewis hopes not only to continue his life's work of effectively, as he says, "investigating the bastards," but to create new ways for investigative journalism to survive, and possibly even thrive.
"We're the only investigative reporting or nonprofit center looking at new models devoted to the future entrepreneurialism of investigative journalism," he says. "I hope we become a beacon of information about what people are trying, and also will create new models that are useful around the world. I have great hopes and ambitions."
And a track record of success.
It didn't take Lewis, a native Delawarean, long to find his calling.
"The first signs of me being a pain in the ass in terms of asking inconvenient questions was when I worked at the Wilmington News Journal at age 17 in the sports department as a clerk," he says. "I was there four years from six [p.m.] to one in the morning while I was going to college. I started to investigate subjects like the football team. I found out the captain was only taking one class."
But Lewis's true epiphany struck when he wrote a 189-page undergraduate thesis during his senior year at the University of Delaware about the U.S. destabilization of Chilean president Salvador Allende Gossens in the early 1970s.
"I interviewed Seymour Hersh, who had broken the first news story about how we had spent millions of dollars directed by Nixon and Kissinger," Lewis recalls. "[Allende] was a Marxist president, but he was also democratically elected. My youthful idealism was fascinated and slightly offended; what right did the U.S. have to go into a sovereign country?"
After earning a master's in advanced international studies from Johns Hopkins University, Lewis landed a job at ABC News, where he worked in the investigative unit for six and a half years. From there he climbed to the mountaintop: 60 Minutes, where he was a producer for the legendary Mike Wallace.
His second story was a 1986 piece on the savings and loan crisis. It was the first investigative story about the S&L financial scandal on prime-time television in the United States, but over the course of his run at 60 Minutes, he found that serious, investigative pieces were not always easy to get on the air.
"As I look back, I think there was something in my craw," he says. "Mike Wallace, when I quit 60 Minutes, said that all investigative reporters are angry. We started screaming at each other using expletives, and I realized there is something about investigative reporters that there's a sense of injustice that things are not as they should be. I always loved the description John Kennedy gave to himself, 'An idealist without illusions.' Investigative journalists are not the grim reaper, they actually do have a sense of idealism, because their sense of idealism is offended. The gap fascinates us."

In 1989 Lewis embarked on his new life path as a "serial foundation founder," which today has led to the Investigative Reporting Workshop at AU. Hatched in 2008, its first project was BankTracker, a search tool created by senior editor and workshop cofounder Wendell Cochran that allows anyone to check the financial health of any bank in the nation.
Released online in conjunction with msnbc.com, it drew 50,000 hits its first day. Since then, investigativereportingworkshop.org has registered 6.5 million page views (BankTracker has racked up 2 million hits on msnbc.com).
"It's a good marriage," said Bill Dedman, an investigative reporter with msnbc.com. "Useful information for our readers, and we can bring a wider audience to the work of the Investigative Reporting Workshop. Msnbc.com is the most-visited news Web site in the U.S., with roughly twice the number of users as the New York Times."
Partnering with commercial news organizations is one of the workshop's key strategies. Along with the msnbc.com deal, it has an agreement with the PBS show Frontline and has partnered with or been covered by Financial Times, ABC World News Tonight, Huffington Post Investigative Fund, the New York Times, the Washington Post, and McClatchy newspapers. In addition, it is one of four nonprofits whose content is distributed by the Associated Press.
"Our projects have to be seen by a lot of people, so in terms of visibility, it's not enough to just put them on our Web site," Lewis says. "The eviscerated newsrooms need content, and the nonprofits need eyeballs because if they're not doing anything useful and no one notices, they're not going to get funding."
Finding funding is a serious challenge for the nonprofits. A project by AU's J-Lab: Institute for Interactive Journalism has found that from 2005 through the end of February foundations handed out $142 million to organizations for news and journalism (not counting public broadcasting).

But with those dollars come questions about influence and impartiality.
"Several years ago there would have been a lot of hand wringing and gnashing of teeth over this, because there's always the fear that if you're taking people's money, that is going to [affect] content," Rieder said. "But the crisis has made people a lot more open to trying new things. People serious about public life worry about the impact on democracy. Are citizens going to be informed enough to make intelligent choices?"
In January the workshop received a $600,000 MacArthur Foundation grant. That, plus an annual budget of $1.5 million enables 11 full-time employees, including four AU alumni, to produce content across the spectrum of new media. Workshop journalists have reported on issues including stimulus money going to foreign companies, the nuclear energy lobby's push, and the rise in thyroid cancer.
It's all done with an eye toward the ultimate goal: exposing the unvarnished truth.
"So much journalism is stenography now," Lewis says. "There's a function required to report what those in power say, but there's a need to also tell us whether or not what they just said is a crock. That's where I come in. I just have to do this. I have a DNA problem, it's just part of who I am. I should be in rehab or something.
"My goal in life now is very simple: to enlarge the public space for investigative journalism."
Investigative Impact
The Investigative Reporting Workshop has published eight major projects since its inception, including Big Nuke's Power Play, Connected, Flying Cheap, and Wired for Health Care. Four reporters share in their own words what motivated them to undertake their investigations.
Thyroid Cancer
"I was intrigued by data that showed thyroid cancer diagnoses were increasing at a faster rate than those for any other cancer. The project shined a light on the medical community's about-face: The increase in thyroid cancer cases was real and not just the result of better detection and screening." —Caroline Stetler

Blown Away
"I first ran across the story when I was working as a reporter at [the Bureau of National Affairs]. I was assigned to write a story about job-creation potential of wind energy, but I noticed all of the companies I was looking at were based overseas. Statistics from the American Wind Energy Association indicated that, at best, just under 50 percent of turbines were built in the U.S.
"This clashed with my image of what the wind industry is—it struck me as something as almost iconically American. I thought of images of wooden windmills spinning in Kansas and environmentalists in California in the 1970s. It's true, the U.S. did invent the modern wind turbine, but a lot has changed since then. 

"Knowing that a lot of the companies involved in the industry were foreign-based, and that the stimulus bill had a lot of money for renewable energy, I thought it might be worth looking at who was asking for all this money—were foreign companies inserting themselves into our legislative process via lobbyists? It turns out that they are, but their lobbying is still fairly small-scale. What was stunning and undeniable was the amount of money foreign-based companies began picking up when grants were announced."          —Russ Choma

The DeParle Portfolio
"The DeParle story raised questions about the new administration's promises of transparency. While promising a fresh start, the White House was drawing on people with long histories on the for-profit side of the health care industry and in the case of health czar DeParle had made millions of dollars from those interests, which of course had a huge stake in the outcome of health reform." —Fred Schulte
BankTracker
"I first started covering banking in the late 1970s as a reporter in Kansas City and Des Moines and later covered the S&L crisis in Des Moines and Washington. So I have been interested in banking for much of my career.
"When the financial crisis of 2008 came along, we had just started the workshop and I was looking around for a topic and this seemed like a natural fit. The difference now is the ability to use the Web to let the audience have a much more interactive experience with the data.
"I think we have made it clear that the banking crisis was not confined to a small group of very large banks, but that the bad lending practices, especially around mortgages, affected a wide segment of the industry. I also have been somewhat startled that the problem of troubled loans and foreclosures continues to grow. The overall decline in lending also is remarkable, actually historic." —Wendell Cochran