In the Community
Eastern Market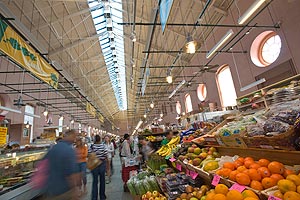 Would you like poetry with your asparagus? Some jewelery with your crab cakes?
Eastern Market on Capitol Hill, a Washington tradition since 1873, closed after a 2007 fire but is filled again with flowers, food, arts and crafts, and crowds of shoppers feasting on the atmosphere and blueberry pancakes.
The market includes four distinct spaces:
The South Hall Market, where indoor merchants offer everything from fresh produce and flowers, to delicatessen, bakery, meat, poultry, cheese and dairy products.
The North Hall Events Space, an arts and community center where locals organize to hold meetings, wedding receptions, dance classes, and other events.
The Weekend Farmers' Line, an open-air venue where local farmers sell fresh local produce year round.
The Weekend Outdoor Market, where local artists sell handmade arts and crafts and antiques.
It's that rarest of Washington species: apolitical. So if you haven't been in years, or never been at all, find some time to stop in the next time you're on the Hill. Your stomach will thank you.