Arts
Giving Voice to the Silenced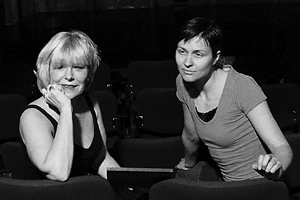 The voices of Terezin were everywhere this spring. They were heard in song and on the stage of the Katzen Arts Center. They resonated from the history department, at the university library, at an urban high school, and at the Czech embassy. 
What began as a project centered on a play written by prisoners in a Nazi ghetto turned into a yearlong, multidisciplinary exploration of the arts, history, memory, and identity.
Any one of the parts—the powerful play, the poetry of doomed children set to music, the honors class, the high-school workshops—could stand alone as a memorable experience.
As a unified whole, the Voices of Terezin became a showcase for the intellectual and cultural life of the university, a rich way to interact with Washington, D.C., and the world, and a many-layered model for interdisciplinary learning.
Origins
In 2008, AU College of Arts and Sciences professor Gail Humphries Mardirosian was awarded a Fulbright Grant to teach at the Academy of Performing Arts in Prague. She left the artistic component of her Fulbright intentionally open. "My idea was that a directing project would unfold," recalls Mardirosian.
Soon after winning the award, Mardirosian read in the Fulbright newsletter about a theatre historian she knew, Lisa Peschel, who was conducting research—for a book—on the theatre of Terezin, a ghetto near Prague that Nazis described to the outside world as "a city for the Jews." Peschel had tracked down the widow of imprisoned playwright Zdenek Elias and found that she still had, in his papers, a copy of a play written and rehearsed in secret at Terezin. The play, Smoke of Home, couched metaphorically as a story of prisoners during the Thirty Years' War, was an emotional look at the tension and despair of life within walls and the dreams of a vanished home.
Mardirosian was astounded. What could it mean to create theatre under those circumstances? What did it mean to the creators? To the audiences?
Terezin, after all, was a "model ghetto" intended to delude the outside world. But it was really a way station en route to death camps. It was a place where artists, musicians, and scholars were clustered and allowed to practice their art–until they died of disease or malnutrition or were loaded onto the transports. Some 100,000 of its 140,000 inmates ultimately died, including all but 132 of the 15,000 children who passed through its gates.
Yet as they waited, sick and hungry and full of fear, they somehow generated art. Mardirosian knew that she had found her project: she would direct the play.
The experience proved to be "one of the most intense artistic experiences of my life," says Mardirosian. Yet it also launched a learning quest that she would take back to AU and Washington, D.C.
Collaborations
Even before Mardirosian left for Prague for the 2008-2009 academic year, the project was growing. Questions to other professors led to enthusiastic conversations about collaboration. New names emerged; ideas of ways to link the project in Europe back to AU were born. 
A conversation with Pam Nadell, director of Jewish Studies, evolved into plans for an honors class. A chance encounter with Helen Langa, chair of the art department, revealed that her cousin was a highly regarded conductor working on the music of Terezin and developing an institute at Terezin, in which Mardirosian would participate.
A graduate student in arts management, Inga Sieminski, took on the project for her master's portfolio–including a workshop for high-school students, marketing materials, a library exhibit, film screenings, discussions, and poetry readings.
AU students traveled to Prague during spring break 2009 for an experience that included a staged reading of the play and a visit to Terezin. The play was performed both in Prague and for the first time ever at Terezin, with survivors in the audience. When Mardirosian returned to AU, she brought with her an expanded vision of what could be done in a year of teaching and learning.
Connecting the voices
Although the play was the focal point, what unfolded on campus during this past year wasn't just about the performing arts. The honors class taught by Mardirosian, and developed with the help of Nadell and others, is a case in point. Its students came from all disciplines: psychology, criminal justice, history, international relations. Those who were used to academic research papers found themselves stretched in new ways.
For instance, they heard from guest lecturers, read papers, and viewed films from the time and then had to "come up with a creative way to demonstrate ownership of the materials." It could be a performance, an interactive PowerPoint presentation, a video . . . the options were plentiful, but students had to use authentic voices and incorporate music, movement, and visuals.
"They all had to be on their feet in class . . . involved in presenting multiple dimensions of the subject matter," Mardirosian says.
One student created a documentary of her personal connection to the Holocaust through interviews with her grandfather, a survivor. Another wrote and read an original short story inspired by core ideas investigated in the course, with a focus on the notion of silence. A third honors student adapted and delivered the sermon of a female rabbi who preached at Terezin before perishing at Auschwitz.
"This was truly a cross-disciplinary initiative," says Mardirosian. "This work has to be done carefully; it can be superficial and potentially compromise any of the disciplines. But in this case, the perspectives continually enriched one another."
Departments collaborated, as well. "We worked very closely on how to shape the course," recalls Nadell, who helped line up experts. "Jewish Studies and the Department of History have a relationship with the Holocaust Museum. This year we brought their fellows to speak at the university. [The students] had an extraordinary experience."
The students agreed. "This connects so much with what else I'm studying," SPA honors freshman Becca Davis says. "When you're studying justice, it's all about how people justify their own actions, how they judge right and wrong, how we bring justice or try to rectify wrongs."
Meanwhile, the Voices of Terezin project grew to include a choral performance, discussions with the audience and visiting experts, and behind-the-scenes collaborations between AU and the Embassy of the Czech Republic. The embassy's cultural attaché even coached actors in Czech pronunciation.  
Students in the honors class provided background research to help performers deepen their understanding of the play and participated in aspects of the project beyond their class—acting, singing, helping with production lighting. Some also participated in the high-school workshop.
Play it forward
At the end of the demanding, intensive, boundary-stretching experience, the students were steeped in the history and arts of a ghetto they once knew nothing about. But they had also learned much more.
"The Terezin project taught me about the frailty of human life and the extreme need for morality and humanity," one student wrote.
Still another reaction: "It made me so much less hesitant to speak out, to act, to help prevent or end cruelty."
For Sophie Cassell, a junior in psychology, the class "changed how I look at education."
The learning and creativity are not over. The ideas planted by Voices of Terezin continue to seed new projects. This fall, AU will present a production for school children, I Never Saw Another Butterfly, based on the poetry written by children at Terezin. A visiting Fulbright scholar will perform a one-woman play about Anne Frank, and a study guide—developed by an undergraduate who didn't take the class, but was inspired by the project—will be used to link the two. The University of New Hampshire will pick up the project too, with a production this fall of Voices of Terezin, using the curriculum developed at AU. Mardirosian will be a guest lecturer and panelist, helping to carry the lessons of Terezin to new hearts and minds.
"Teaching this course has been one remarkable journey," says Maridrosian. "This was a multilayered educational experience. The goal was to reach out internally and externally with the story of Terezin, and we're still doing that." 
The Many Facets of an Expanding Project
Dozens of students and experts were drawn to the project initiated by Gail Humphries Mardirosian, which continues to bear fruit. Czech actress Mirenka Cechova became involved in the Prague performance and will come to AU this fall to teach non-verbal theater and present her one-woman performance of The Voice of Anne Frank.
Honors class
Drama performances in Terezin and Washington, D.C.
Choral performances
Exhibits
Film screenings
Panel discussions
Workshops for high school students
Web site
Collaborations with Czech embassy
Holocaust experts visit
Students present research at academic conference
Students write program notes for play
Playwright's widow, daughter travel to AU for performance
Embassy conference on Czech Jews
Holocaust survivor, author addresses AU students
Collaboration with University of New Hampshire