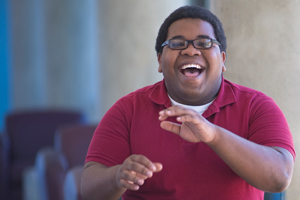 American University's wonks come in all shapes, sizes, and disciplines. Here's Eddie Leavy's (SOC/BA, theatre minor '12) story — in his own words.

I love everything about the theatre — being on stage, and having the spotlight on you, and performing, you know, singing, acting, and dancing. I have been doing musical theatre from third grade on. Musicals are still my first love because they're my comfort zone, I've grown up on them. I never would audition for straight plays — I never thought I was good at it. But the experience I just had doing The Three Sisters was probably the most valuable learning experience of my life.

I feel like theatre people have this big secret. If you're not a theatre person, it's hard to explain how amazing theatre can be. I think it has the potential to change someone's life. Different shows have different reasons to be done: some stories should be told just for pure entertainment, shows like Grease. And then there are shows like The Three Sisters that need to be told because they make you think. People came out of Three Sisters in tears, saying that it was inspiring and thought provoking. When I hear that, it makes me so happy because all this hard work we did really impacted people. That's the kind of theatre I love to do — that makes people reevaluate their life.

My director in high school always said, "Be extraordinary on stage — and be extraordinary at everything you do." I think that if you strive to be extraordinary on stage, you should strive to be extraordinary in real life, because in theatre what we're trying to do is mimic real life. And I think if you're serious about having a great work ethic on stage, you should carry that over to your life. I'll never forget that.