International
Africa Wonk
By Alison Kahn
December 16, 2010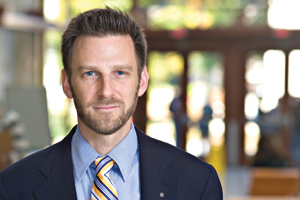 American University's wonks comes in all shapes, sizes, and disciplines. Here's School of International Service professor Carl LeVan's story — in his own words.
There's a shortage of wonks on Africa. The result is a mismatch between the ideas being implemented and the big questions being asked. I'm interested in Africa at the policy level because it's become more and more important for the United States. There's been a massive increase in trade in both directions. And I'm concerned about how Western security interests have the potential to trump the fragile state of democracy in Africa and to put things off course. It may become harder for people to engage in self-help activities at the community level, and they may have less freedom to participate in politics.
I left government wonkdom to become an academic. And fortunately, academia has been a little ahead of the game. Scholars have been working very hard to integrate the study of Africa with social sciences and political science and to bring some of the core issues to the attention of policy makers. And now we're at a point where they're starting to really listen.
The impact of my blog, Development4Security, I hope will be to bring some undernoticed resources into the academic community and to bring some underrepresented views to the policy community. I've been really excited by some of the debate that's started to play out, and eventually I'll integrate this into my courses. So as I build my blog as a knowledge tool, then it will also become a teaching resource.
I'm hoping that my work will help bring to light some of the ways in which viewpoints and communities have been marginalized. I think that if I can help stem a policy drift that jeopardizes the democratic gains that have been made in Africa over the last two decades, then I've made my contribution.