Journalism
Filmmaking Wonks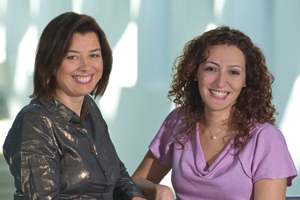 American University's wonks come in all shapes, sizes, and disciplines. Here is the story of Olha Onyshko and Sarah Farhat — both SOC/MFA '09 — in their own words. Their film, Three Stories of Galicia, was screened at the Cannes Film Market.

Olha
The summer before enrolling at AU, I went on a journey in Ukraine collecting stories. I knew there was this region, Galicia — I am from there. I heard a lot of things that happened to my own family during the Second World War. But when I was at the Soviet school, I was not able to talk about it, and it was not in the history books. So, when I started to record the stories, it was interesting for me because they are not recorded anywhere else. When Sarah and I met — it was our first semester at AU — I told her that I had these stories, would she be interested? And I guess being from Lebanon — they were similar to what was happening in her part of the world.

Sarah
It's the stories of three people who come from the same region but from different backgrounds: Jewish, Ukrainian, and Polish. What they have in common is that they all had risked their lives to save somebody who was supposed to be their enemy. We chose those stories because they give a message of tolerance, of reconciliation.

Olha
We made this film because we want change, we want these groups to start talking to each other. And we think this is a universal lesson — that first, you have to record history from the people's perspective, then you can have all kinds of discussions. But at least it's recorded, you cannot just erase it. 

Sarah
When we first started, it was kind of a mission impossible. But we kept pushing and so it was four years of really hard work. The result is that it's already starting to touch people. Media is very powerful if you can use it to do good. We would love to continue to make similar films — but we're not just interested in entertainment for entertainment's sake.