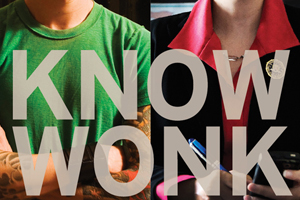 How does one get to know an entire community? At AU, the answer was found by flipping a key word in this very question.
Why a campaign
When a university transforms itself into a vibrant, thriving institution with talented faculty and students passionate about creating meaningful change it's critical that the world notice.
With competition for talented students, faculty, and funds in a crowded marketplace growing more intense by the day, universities must differentiate themselves.
No longer your father's AU, the university decided two years ago to help close the gulf between its reputation and reality. The goal was to bring AU's strengths to the surface in order to motivate people to engage with the university.
From the Bottom Up
Among the first steps was to hire the marketing strategy firm Simpson Scarborough, which reached out and touched thousands of students, faculty, alumni, and staff in hopes of identifying AU's distinctive characteristics.
Using that information and boatloads more, a university marketing advisory council composed of the provost, deans, faculty, staff, and students recommended moving forward with a brand strategy focused on three messages:

active citizenship
learning from leaders
Washington as a powerful lab for learning
The Big Idea: How to Just Do It?
One day, after countless hours considering dozens of ideas to illustrate the strategy, in its Tenley Campus war room—an erstwhile conference room transformed into a creative oasis complete with bean bag chairs and a hip-swaying Elvis clock—a University Communications and Marketing team rediscovered a cartoon Nate Beeler, SOC/BA '02, drew for a 2008 edition of American magazine.
The Washington Examiner cartoonist depicted a flock of men and women sitting on a telephone wire near the Washington monument like birds (or perhaps Supreme Court justices), squawking "wonk." But how would wonk play to different age groups, audiences, and even in different languages? Months of testing and research commenced.
"The term can apply to anyone because it's a smart person who is incredibly passionate about what they do," said Beeler, a self-described journalism wonk. "D.C. attracts that kind of thing, and AU is the perfect place for it."


Seeding
After developing the concept and testing it with a host of campus constituencies, alumni, and potential students, it became clear that wonk was a hit.
Teams of undergraduate and graduate students were hired to help figure out how to introduce the concept to their classmates. They let their fingers do the walking, spreading the word about wonk through Twitter, Facebook, videos, and even wonk walks.


Rolling Out
Wonk's campus coming-out party was in August during the annual Celebrate AU soiree on the quad.
Lines started forming for free wonk T-shirts around 1:00 p.m. So popular were the 18 varieties, each adorned with a Beeler character, that three hours later the lines kept going and going and going . . .
In the end 3,500 T-shirts were handed out. The first to go was Peace, followed by Global, then Green.
The word about wonk quickly spread. A September 24 Washington Post story detailed the campaign. Ads have begun appearing at Metro stops and in local newspapers. During All-American Weekend in October, a Wonk of Fame exhibit highlighted successful (and some famous) AU wonks.


Rolling On
As the wonk campaign continues to grow, it will do so as it was hatched—in a calculated, collaborative, and focused manner.

AU's new welcome center is scheduled to open in the Katzen Arts Center in January. Wonk and its anadrome (know spelled backwards) will be featured in everything from enrollment materials to the physical decoration of the space to the welcome video.

AU—the choice of a new generation of wonks.

_________________________________________________________________________________

WONKS IN THE NEWS

Seems wonks are everywhere in the news these days.

"Just like any athlete, these top Scrabble word wonks have memorable plays." — Dallas Morning News (August 7, 2010)

"And when you get in there, if you're an earnest policy wonk like he is and I was, it's hard to believe there are people who really don't want you to do your job." — President Bill Clinton in reference to President Barack Obama, New York Times (September 20, 2010)

"[Jack Eichenbaum] is . . . a bit of a Brooklyn wonk. He has 3,000 slides of historic Brooklyn images and one-third of his basement has been taken over by Brooklyn Dodgers' paraphernalia." — New York Times (June 9, 2010)

"Even in a city of policy wonks, Mr. [Roger Blaine] Porter is an acknowledged black belt in white paper." — Maureen Dowd, New York Times (March 29, 1990)

For videos, stories, wonks in the news, and more, visit AU wonks.