Athletics
168 Hours: Booked Solid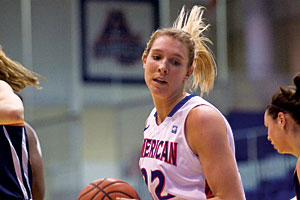 American University student-athletes earned a 3.32 grade point average for the 2010 fall semester. In addition, 93 student-athletes were named to the Dean's List, which requires a 3.5 GPA and a total of at least 15 credits, while 14 student-athletes earned perfect 4.0 GPAs in the semester. Those are pretty impressive stats, and got us thinking: how do student-athletes balance the demands on their time to succeed in both the classroom and on the court or field? To find out, we followed one around for a week.

Eight-fifteen on Saturday morning is not a time most college kids embrace. But it was at precisely 8:15 on Saturday, February 5, that Liz Leer's alarm clock sounded. She wiped the sleep from her eyes, resisted the urge to hit the snooze button, and rolled out of bed.
Over the course of the next week, virtually all of the American University women's basketball star's 168 waking hours were booked.
For 430,301 NCAA student-athletes, time is of the essence. In addition to the academic requirements and social desires shared by all university students, student-athletes commit their bodies, spirits, and minds to their sport. It's incredibly demanding—and rewarding—and it takes discipline and skill to pull off.
"It's not just the game time, or the practice time," says Matt Corkery, AU's women's basketball coach. "It's the travel, the film sessions, the rehab, the weight training. It's taking care of your body, eating well, sleeping right. The average person probably doesn't understand the sacrifice our players make."

After American magazine spent a week with Leer to chronicle the life of a typical student-athlete, that sacrifice is unmistakably clear.

Saturday, February 5

Leer leaves her off-campus apartment 15 minutes after waking up and heads to Bender Arena, her home away from home. A senior, she shares the two-bedroom pad with three other athletes.

At 9 a.m. the team gathers for a shootaround, loosening up and preparing for the game against Lehigh five hours later.
Saturday's pregame meal is at Chef Geoff's, a restaurant on New Mexico Avenue. During the season Leer tries to consume 2,500 to 3,000 calories a day (we should all have such "challenges"), so she digs into eggs, French toast, potatoes, bacon, and fruit.

After breakfast it's back to Bender to watch AU's men's team practice. She's close with a number of players on the team and watches them play whenever she can.

"They go extremely hard," she says. "That's something I've always noticed about the boys, there's a level of play and if you're not doing it, their coach calls you out immediately. Clearly it's working because they've won championships and we haven't—yet."

Leer arrived at AU from suburban Philadelphia four years ago as a talented but raw player. Over the course of her career she's developed into a multifaceted scoring threat, improved her defense (particularly her shot blocking), and become an unquestioned leader. Still, the ultimate goal—winning the Patriot League Tournament—has eluded her.

A definite big-game feel permeates the gym. In addition to the annual "Phil Bender" promotion, it's the Faculty and Staff Appreciation BBQ and National Girls and Women in Sports Day. An enthusiastic crowd of 1,147 fills the stands.

From the jump it's clear that Lehigh has come to play. The Eagles can't match the Mountain Hawks' intensity, but after Leer scores the final four points of the half, AU trails by just one.

But in the end, Lehigh pulls away. The final is 57-46, but there's no time to sulk. After just 20 minutes the players emerge from the locker room to sign autographs and conduct clinics for the hundreds of girls in attendance.

"Matt's clearly disappointed," Leer says of her coach. "He wants the senior captains to be leading better. It's hard when it comes down on our shoulders sometimes, but it's part of the job, and it's something I would hate to be without. But you can't stay mad and sad when you have hundreds of little girls looking up to you. That's what the day is about."

Leer finally showers at 5:30, then drives to the Bethesda hotel where her mother, Anne, and young cousins Grace and Amelia are staying. She's close to her family and speaks to her mom every day. But the conversations didn't always flow so freely.

"I think freshman year the adjustment was difficult for her," Anne says. "We did not talk every day. It was hard for her to get her schedule set between basketball and studying. But she got into the rhythm of it and by senior year it's a part of who she is."

After devouring a crab cake salad for dinner and spending some time in the hotel pool (and hot tub), Leer goes to a friend's house around 9:30.

Saturday night is her time to let loose, so it's with great reluctance that she passes on dancing downtown.

"Normally I get a second wind and am ready to go out," says Leer, 21. "If we would have won I probably would have gone, but I was kind of down."

At midnight, she's out.

Sunday, February 6

Leer is again awoken by her alarm, but this time it's at the saner hour of 10:30. Despite the extra sleep, getting out of bed is harder than it was yesterday.

"At this point I'm a little bit achy," she says. "Knees, back. Injuries that happened at the beginning of the season that you thought were gone, you start to feel come back. It's a little bit worse this year because I'm a senior. It's been four years of battling."

After her daily coffee pit stop at the Eagle's Nest, she meets her cousins at the bookstore where they pick out Eagles garb and grill her about boys. Leer is single, and to hear the 6-foot-2-inch blonde tell it, pickings are slim.

"I have to date someone taller than me," she says emphatically.
Back home Leer composes poetry for a creative writing class. A public communication major, she has a passion for sports and women's health.

Studying leads to a 45-minute nap, after which she showers and joins her roommates at a lacrosse player's house to watch the Super Bowl.

As Green Bay hoists the Lombardi trophy, Leer climbs into bed for a treasured few minutes of alone time, reads, then dozes off.

Monday, February 7

Mondays are Groundhog Day for Leer. They always begin at 8:55, then a walk to campus with her roommate, and scrambled eggs for breakfast at TDR.

Creative writing and introduction to archaeology are on the schedule this morning, but following those, basketball takes over. The team watches film, practices for about two hours, then lifts weights.

"The film session opened with critiquing our offense, and it ended on a box out of mine that [coach] thought I could have gotten the rebound on," Leer says. "I beg to differ. He knows I can handle criticism and turn it into positive. I know it's to make me better. It still sucks, especially because there are times I don't always agree with him, but I swallow it and move on."

Tonight that means dinner at TDR with freshman teammate Sarah Kiely.

"Liz really mentors a lot of our younger players on the team, but she also has a lot of friends outside the team, and I think that provides her with good perspective and good balance," Corkery says. "Her determination to take our program to a place it has never been before really sets the tone."

She stays in the Mary Graydon Center to work on papers for her sports journalism and sports psychology classes before heading home for a late-night bowl of cereal and bed by midnight.

Tuesday, February 8

Leer's Tuesday begins just after 9. Anthropology class is followed by a late breakfast at TDR with friends.
Practice is scheduled for 1:15, but Leer watches extra film with teammate Stephanie Anya and assistant coach Josh Hutchinson beforehand.

"It really frustrated me," she says of reliving Saturday's Lehigh loss. "It put a damper on my day, but I had to forget about it."

Practice ends with another film session, this one focusing on tomorrow's opponent, Bucknell.

Leer meets her friend, Lisa, for dinner, and the two drive to her beloved Chipotle. A steak and chicken burrito with rice, vegetables, guacamole, and salsa hits the spot, then the girls hit a store to pick up an outfit for Saturday night.

Glee offers a brief diversion before Leer finishes up a psych paper and turns in early.

Tomorrow's game day.

Wednesday, February 9

"I've been thinking about the game ever since I woke up," Leer says at the team's 3:30 pregame meal. In her morning sports psychology class the professor discussed relaxation techniques. "I was like, I don't know if I should be doing this," she jokes.

Leer's—and all student-athletes'—ability to compartmentalize is a key to their success.

"I admire Liz's ability to do so much, and to do it with such self-assurance," says School of Communication professor Maria Ivancin, who taught Leer's public relations class. "Those are qualities that will carry her far in a career in communication. She projects aprofessional confidence in her interpersonal skills, in presentations, in her assignments, truly in everything she does. The personality traits and skills that make Liz a great athlete will also make her excel as a professional in our field."

At 5 p.m. Leer receives her standard pregame foot rubdown from AU trainer Megan Ellzy, and in the locker room just before the game she listens intently to Coach Corkery.

"Be the more aggressive team," he repeatedly tells his players.
The words resonate. AU sprints to a 7-0 lead and never looks back. Leer scores 10 points in a 66-38 victory that at least partially erases the pain of Saturday's defeat.

This night her sister, Emily, a redshirt freshman basketball player at Villanova, attends the game with their father, John. The family walks across the street to McDonald's for a victorious postgame dinner.

The fries taste that much sweeter.

Thursday, February 10

Not surprisingly, the mood at practice is upbeat. Leer already has attended writing and anthropology class and eaten lunch in the locker room.

"What these guys have mastered is time management," says SOC professor Rick Stack, who taught Leer. "The demands on their time are the same as an Alabama lineman."

Leer has just a moment to grab some veggies and hummus after practice before her sports journalism class, where ESPN writer Patrick Hruby is the guest speaker.

This evening she joins friends at the JV men's basketball game; it's a welcome break from the pressures of her own team. Normally Thursday nights are reserved for Jersey Shore, but tonight the Lakers-Celtics game takes precedence.

She climbs into bed and falls asleep with a copy of Cosmopolitan by her head.

Friday, February 11

The team hits the practice floor at 9 a.m., meaning Leer wakes up earlier this morning than any day this week. Hoping to keep his team fresh, Corkery keeps practice light.

Leer has only an hour to shower and pack for the trip to Colgate. When the bus rumbles off at noon, everyone's on it.

The drive on I-81 to Hamilton, New York, takes about six hours. Leer and the team spend the first hour in study hall, then either continue working, watch a movie (Couples Retreat is today's feature), or try to nap.

"I personally know the demands of travel and how that can upset your routine, but most student-athletes do it without losing a step," Ivancin says. "Liz in particular never let it affect her work. She never let anything get in the way of excelling in the class."

Following dinner Leer and cocaptain Nicole Ryan lead meetings at the hotel.

Roommates are randomly assigned each road trip, and at the White Eagle Conference Center Leer stays with freshman Brooke Forsythe. The individual cabins are isolated and quiet, but for some reason, when the lights go out at 11, Leer can't sleep.

Saturday, February 12

Much like a week ago, the atmosphere inside the arena is electric. Colgate is hosting its annual "Think Pink" Day, and Leer's parents have driven to the game as well.

Shortly after the 9:30 wake-up call, the team assembles in Corkery's room to watch film. They arrive at the gym around noon, two hours before tip-off.

From the outset, AU plays as if it wants to get the win then get out of town. Leer leads the team with a game-high 18 points, and adds five rebounds, tying her for third all-time in program history.
After the 69-49 win the girls are most concerned with showering quickly and getting home. Saturday night in D.C. awaits.

They roll into town around 10:45 and Leer, unable to nap, is exhausted. But unlike a week ago she harnesses a second wind. There's no time to squander—in just a few weeks, her basketball and undergraduate careers will be over.

"That's something that's always on my mind," she says. "I still can't believe that I'm not going to be a basketball player anymore. It's absolutely flown by, but it's been amazing. That's the first thing I'm going to say to someone hiring me: I'm a student athlete and I know how to handle my time. I know about time management and being organized, and I know about hard work."

Tonight, however, is about play. At the Front Page in Dupont Circle the clock strikes midnight, and while this story is over, Leer's night most certainly is not . . .