Communications
Redefining Stories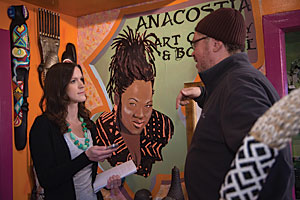 What if a journalist, a creative writer, and an anthropologist were asked to tell the same story—in a medium of their choice?
That was the question that drove a School of Communication (SOC)-based project, in collaboration with the College of Arts and Sciences (CAS), meant to tear down boundaries and redefine storytelling. After all, what better time than now, when traditional journalism itself is being redefined? And what better story to tell than one community's struggle with opposing sides of the illegal immigration debate?
In the fall semester of 2009, two students from my journalism class and two from Nina Shapiro-Perl's anthropology and documentary film class embarked on the first installment of the experiment we're calling the Community Voice Project.
The two from my class—Race, Ethnic, and Community Reporting—were an undergraduate journalism major and a MFA in creative nonfiction. The two from Shapiro-Perl's class—Unseen and Unheard: Documentary Storytelling in the Other Washington—were anthropology graduate students.
We gave them a simple charge: find and tell the best story you can in 15 weeks, using any medium. No rules, no boundaries, other than ethical decency and transparency.
The resulting stories included an audio slideshow of advocates reading Bible passages that justified their opposing stances on illegal immigration, and a photo narrative about one white man's journey to become a spokesman for illegal immigrant rights, at great personal and professional cost.
But the true product of the Community Voice Project is rooted in the discoveries that all of its participants made in the process of telling these stories.
Shapiro-Perl, a documentary filmmaker with a PhD in anthropology, has explored the boundaries between those two disciplines. Since embarking on this project and working with me, a journalist, she said, "I have had to examine the overlap and boundaries more consciously. It has been a fascinating journey."
The Community Voice Project started as the vision of SOC dean Larry Kirkman. In 2008, Shapiro-Perl and I were teaching our respective courses that focused on undercovered communities in the D.C. area.
Kirkman saw a way to combine the classes in joint projects that would help give voice to people, organizations, and issues that increasingly were not being covered adequately as mainstream journalism struggled.
Community Voice was about more than class projects, Kirkman said. It "fills a vacuum" in the public debate, and it creates new models for reporting, public communication, and public policy making.
Kirkman led the effort to write a grant proposal to fund the project, which in 2009 received a $150,000, two-year award from the Surdna Foundation. The grant would establish the collaboration of our classes as a foundation for building a university-based center and public resource around the concept of community storytelling.
The stories from Prince William County were our first foray into rethinking journalistic storytelling, one that mirrors similar efforts at other universities.
The most ambitious may be the Massachusetts Institute of Technology Media Lab's Center for Future Storytelling. The project explores the incorporation of everything from user interactivity to robotics and movement capture into the storytelling process.
Pulitzer Prize–winning journalist Jacqui Banaszynski, a professor at the Missouri School of Journalism, launched the Future of the Story project, which explores how storytelling will change and evolve in the digital age.
"I'm interested in how a multimedia world will create its own new forms of story," she said. "While current journalism studies have addressed digital reading and eye tracking, I have not seen the core question that relates to what happens to stories." Specifically, she said, stories with context—personality, scene, soul—that "connect the dots instead of just being the dot."
William Leap, chair of the anthropology department in CAS, specializes in linguistics. As a collaborator on the Community Voice Project, he sees parallels to the fieldwork he did with the Northern Ute tribe in northeast Utah.
"The question of authority, the willingness to give up authority, is something that anthropologists are struggling with," Leap said. Narratives in journalism and documentary film have traditionally been determined by the reporter or the filmmaker, not the subject of the story.
The key, Leap said, is to focus on knowledge transfer, not just the finished product. Leap wants to give disenfranchised people in the Washington, D.C., area the tools to "decide how they want to explain their stories." Just as linguistics can be turned on its head," Leap said, so can storytelling: "I see the Community Voice Project as a new definition of what narrative is."
Missouri's Banaszynski said efforts like Community Voice and her Future of Storytelling are necessary to remind the public not to take the power of the "shared story" for granted. "Whenever I tell people about this, they say storytelling will never die, storytelling has existed since we wrote with ochre on rocks. What difference does it make if we do it on blogs or online?" she said.
"I think there was a special service when daily newspapers did that kind of work, because it meant that a geographic unit served by newspapers all had exposures to the shared story."
Ultimately, changing the medium and distribution of stories has implications for the storyteller, story subject, and readers alike, Banaszynski said. Like Leap, she's interested in how the relationships between those three entities might shift.
Shapiro-Perl's anthropology student Jenny Grubbs said she learned that she had to let go of categories, and stop trying to decide if her story was anthropological ethnography, activist film, or a journalistic profile. "You have to be willing to let the story take on a life of its own," she said.
Beltway-area locals like to say that Prince William County, Virginia, was Arizona before Arizona, the state that this year passed a controversial law requiring local law enforcement officials to check immigration status of people they encountered. In 2007 this mushrooming bedroom community of Washington, D.C., became a regional hotbed for immigration issues when the County Board of Supervisors passed a similar resolution.
On a Sunday evening in September 2009, a local, faith-based, immigrant advocacy group, Unity in the Community, met over dinner at Ruby Tuesday. That meeting was no accident: Nina Shapiro-Perl and I had connected with a national nonprofit called Not in Our Town, which focuses on creating community dialogue in communities affected by hate crimes and racial tensions. The director, Patrice O'Neill, helped us set it up as a starting point to our experiment in Prince William County.
Shortly after Jennifer Cooper met Unity in the Community's leaders at Ruby Tuesday, she found a rival organization, Help Save Manassas, which was heading efforts to support local enforcement of federal immigration laws.
"The leader," Cooper said, "was citing Bible passages in YouTube clips to argue about why [illegal] immigrants need to be deported and why they ruin the community. It was really interesting that the two ends of the divided Christian community were using the same text to argue their points."
Cooper produced a story package that included a text piece that blended creative nonfiction and journalism styles. But to me, the real innovation was the audio slideshow of advocates on either side reading Bible verses. It had the feel of a documentary short—a digital literary essay.
"There has to be conflict in the piece," she said. "And if there's conflict, there has to be two sides—and a lot of times there's more than two. If you're taking on the broader issue of conflict, you're more open to seeing the nuances in an issue."
Anthropology graduate students Charlene Caprio Shovic and Jenny Grubbs took a different tack, going out into the community to find stories of people who had changed their beliefs about race and immigration. The idea was to help Not in Our Town convey its message.
"We had to interview a ton of people to figure out what the 'story' is there," said Grubbs. "It was basically trial and error."
The central story became that of a man named John Steinbach, who told them how he had transformed from someone largely ignorant about race to one of the most vocal white advocates for Latino immigrants in Prince William County. This had made him an easy target for anti-illegal-immigration activists.
Shovic and Grubbs used a digital story format in which the subject's voice tells a first-person narrative over personal and historic photos and documents. It allows the subject, Shapiro-Perl said, to participate in the storytelling to a greater degree than most journalistic or documentary film projects.
"Anthropologists have always been involved in trying to understand things from the point of view of 'the Other,' " she said. "We ask, who gets to tell the story?"
Shovic said she saw the tension in her story not as between two sides, but as "the 'why' of people."
"I struggle," she said, "with the idea of always making sure you are representing the opposition. Why not instead get at the roots of someone's superficial position, the underlying causes?"
Voices from the Community
"In the last 20 years, Manassas has grown increasingly diverse due to immigration, both legal and illegal. The issue of illegal immigration has divided the Christian community here. Some say the Bible calls for them to embrace immigrants as humans who are just here trying to feed their families. Others argue that the only Biblical solution is to deport those who break the law and steal from tax-paying Americans." —JC 
From "Immigration and the Bible" audio slideshow
Mark Weaver: ". . . in the 19th chapter of the Book of Deuteronomy, the 14th verse, it reads: 'You shall not remove your neighbor's landmark, which the men of old have set in your inheritance, which you will inherit in the land that the Lord your God is giving you to possess.'. . . The 17th verse of chapter 27 reads as follows: 'Cursed is the one who moves his neighbor's landmark, and all the people shall say, Amen.' . . . The Scriptures clearly teach that respect for private property and boundaries are important to God. . . . Well-kept borders and boundaries are critical to the survival of any nation and culture, and laws that protect private property keep us free."
Illana Naylor: "We are all strangers, we are all sojourners, we are all aliens walking upon this earth. And God . . . welcomes us home. And all that God asks for us in return is that we do the same for others . . . and that we extend that grace, and that peace, and that love to others. So in my heart, there's really no other legitimate response to immigrants in our midst who are here to feed their families, because I am also a stranger, and I am also an alien, and I am also a sojourner upon this earth. And it is for me to welcome any and all God's people."
From "Against the Grain: The Story of John Steinbach" digital story
John Steinbach: "Between my junior and senior years, it would've been '63 . . . I worked picking strawberries. . . . The Mexican farmworkers . . . who had been working farther south finally made it up to Ann Arbor. For several weeks I worked in the fields side by side with [them] . . . It was the first time that I had ever been in reasonably close contact with people that didn't look like, and didn't live like, and didn't have the same cultural values as I did. . . .
The immigration crisis hit [Prince William County] and the politicians became obsessed with this idea of illegal immigration. . . . I became one of the principle non-Latino voices for the struggle. The Help Save Manassas group decided that I was an easy target, so I was the object of a pretty massive campaign to get me fired from my position as a substitute teacher."
Activist Teresita Jacinto: "He's probably hated the most and singled out most publicly. . . . It's easy to hate me, I'm the minority. But to have a white man stand up and speak against what they are doing, that person is just going to be absolute anathema. . . .
One [poster they circulated] had to do with ridding the community of vermin, and they took pictures of various places where they say immigrant families are living. They took pictures of trash bags, and the back sides of houses, and spattered throughout the collage were pictures of dead rats. These pictures of dead rats surrounded a central photograph of John." There is a price. . . . You have to speak the truth, no matter what the cost.
JS: "If you have a white-skin privilege, you have a responsibility to use that for your sisters and brothers of color. . . . So if I believe in these fundamentals, it's impossible not to keep going."
View these projects and more at communityvoiceproject.org.