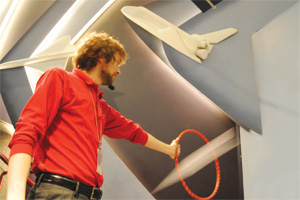 At this point Coby Hutzler figures, "I can make paper airplanes in my sleep."
Yet each time he leads a group of eager visitors at the National Air and Space Museum, where he works as an "explainer," he marvels at the sense of wonder the simple process of folding a piece of paper into a makeshift flying machine brings to people's faces.
"You get people from everywhere in here, you hear so many different languages in a day it's amazing," he says. "A day doesn't go by where you don't learn something."
When Hutzler, SIS/CAS/BA '13, was browsing through AU's listing of federal work-study opportunities, one at the Air and Space Museum flew out at him. Though he's majoring in international studies and religious studies, he's always been fascinated with flight.
"I've kind of had a crush on planes and space since I was a little kid," says Hutzler, who first visited the museum in September. "I remember walking in the door and seeing the Apollo module—the actual Apollo module that went around the moon—and going, 'Oh my God.'"
Hutzler's passion makes him a perfect explainer, one of a team of high school and college employees who perform science demonstrations throughout the museum. Hutzler works in Gallery 109, which houses the How Things Fly exhibit. The emphasis is hands-on, and the paper airplane contest Hutzler runs is a popular attraction.
"The overarching goal of the paper airplane contest is to educate about stability," he says. "The contest is kind of a hook to get kids in."
As the 30-minute demonstration unfolds, participants fold their own paper airplanes, then tweak and improve them in an effort to achieve greater flight time and accuracy. In the end, whoever's plane flies through a hoop last wins a prize.
A cyclist on AU's club bike racing team, Hutzler works as an explainer about eight hours a week during biking season, up to 20 before or after. During breaks he loves to explore the rest of the museum or others nearby, like the National Museum of the American Indian.
Proximity to some of the country's most treasured cultural attractions is one reason Hutzler came to AU and the nation's capital from his native Oregon. He just never thought he'd actually be working at one of America's most visited museums.
"I used to make planes out of Legos," he says. "To be working here now is really cool."