Arts
Tough Times: Paint around Them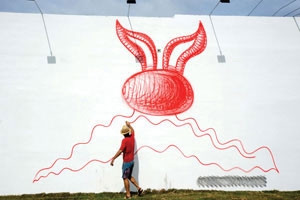 Miami, Fla. - It's two o'clock on a sparkling afternoon in South Florida, and Carl Hildebrand, SIS/MA '02, is leaping about joyfully and flapping his long arms at a giant outdoor painting of a man who's flapping his arms.
The wall painting is called The Barrel-Chested Man, and it was executed about a year ago by two South Florida graffiti artists known as "The Date Farmers." Whenever Hildebrand visits the huge mural, he lights up like Yankee Stadium at night and starts rhapsodizing about the "mysterious spiritual energy" that zips and zings through the rapidly expanding world of Miami's Wynwood Walls Arts District.
Will you look at the eyes on that figure?" says Hildebrand, a high-profile real estate and arts entrepreneur, nick-named the "Green Broker of Miami" because he specializes in environmentally sustainable real estate deals. Hildebrand believes that art, especially outdoor art, has the power to heal, vivify, and even "restore the child" inside each of us. "Can you feel the vibration? These outdoor wall paintings — they've got a spiritual dimension. They're alive, you know? Whenever I visit Wynwood Walls, I start dreaming again of becoming a professional doodler. I want to grab a paintbrush, I want to do outdoor art like this. All that Day-Glo paint, all these huge canvases — they remind us of how we all want to reconnect with our early years, the time when we gave ourselves permission to create."
Graffiti Park

Another frantic arm flap and then he's off again, loping across the sun-walloped open space at the center of the new Wynwood Walls "graffiti park," one of the world's largest, open-air street-art museums. He stops before a giant, glow-in-the-dark wall canvas entitled 33 Women by graffiti maestro Ryan McGinness. The painting features a swarm of female nude figures executed in flaring tangerines, fiery reds, and boiling lime greens that seethe with tropical energy.
"Do you know what he did?" barks Hildebrand. "First he painted that wall white. Then he stenciled it in black so that it's black-lit, and that makes the colors glow in the dark. This is the street at night, this is Miami at night. Intense? Can you feel the vibration?"
And he's off, zooming across the graffiti park again, leading us on a whirlwind tour of blazing murals by such heavyweight outdoor artists as the Brazilian "Nunca," whose megacanvases depict the "cultural struggle between indigenous tribes and contemporary societies in Latin America." And by the famous Greek muralist Stelios Faitakais ("Look at those elongated Byzantine figures, his take on the medieval frescoes in the Greek churches where he grew up"). And also by the take-no-prisoners American outdoor cartoonist Kenny Scharf, whose enormous wall paintings feature funhouse bubble animals and grinning sharks and shimmering tropical colors powerful enough to make your eyeballs beg for mercy.
Fine Arts Can Survive

For Hildebrand — who earned a master's in political science at AU's School of International Service and who studied international trade and business management at Oxford University in England — the Wynwood Walls Arts District on Second Avenue in North Miami proves his theory. The fine arts can survive, and even thrive, during a time of recession, provided that artists use their smarts and understand how to keep their wares front and center and brilliantly, vividly alive.
Hildebrand, 34, is himself a cultural heavy hitter who founded LegalArt, a nonprofit agency that helps young artists break into the local arts scene.

"If you look at what's been happening lately here in the Miami Arts District," he says, "it seems pretty clear that art is alive and well and really flourishing in this city."
He's right. These days, there are more than 70 art galleries and museums and artists' studios doing business right here in the Wynwood District, which several years ago created the graffiti park with the help of some major nonprofit funding and dozens of local artists. "Outdoor art is booming in Miami right now," says Hildebrand, "and it's also selling. And that's happening in spite of the recent contraction in the U.S. economy. Why? It's simple, really. For one thing, Miami has become such an international city in recent years that it's been pumping tons of energy into the local culture.
"I think that international energy has also helped inspire a savvy recognition among South Florida artists that they need to find new markets and new resources, along with new ways of getting their art works out to the galleries and the dealers and the real estate developers and hotel operators who will buy them.
"That's certainly a big part of the story here. At the same time, however, it's also true that many of our local artists have been learning how to craft new strategies for collaborating effectively. They're teaming up in order to share studio and gallery space. They're building the kinds of facilities you see springing up all around Wynwood — new studios fashioned from what were abandoned warehouses, where they can find plenty of space and plenty of tropical sunlight for the work they want to do."
Arms flapping again, Hildebrand drops into a plastic chair before Allegory of Florida, a jumbo mural by Faitakais (he works with oil and spray paints — at the same time) in which a series of almond-eyed male figures slink across a concrete canvas dominated by chrome-yellows and pearl-gray slashes of spray paint.
"If you study the burgeoning art scene in Miami," says the longtime president of the 2,000-member AU South Florida Alumni Association, "you soon discover that, for the artists who want to survive the current economic downturn, collaboration is king. That's an important message for artists everywhere. And I really believe it's the message of Wynwood Walls.
"Finding new and dynamically creative ways to create and disseminate art — that's the winning strategy that these artists in South Florida have discovered, and that's why their work is taking off."
Pecha Kucha
Like South Florida's art scene, Carl Hildebrand himself seems to be enjoying a renaissance that includes his emergence as a go-to cultural commentator and arts entrepreneur with major-league clout around the fine arts community. He has a knack for networking among the culture moguls who dominate Miami's Bal Harbour and Design District galleries and museums. In recent years, he's won kudos for helping to manage and propel the prestigious, Miami-based Peter Tunney Experience gallery toward headline-making success.
Hildebrand has gained local fame as the innovator who brought Pecha Kucha (Japanese for "chitchat") gatherings to South Florida. A chapter of an informal, Japanese-inspired think tank, the group meets monthly to discuss trends in technology and the arts.
"Okay, everybody," Hildebrand thundered at the start of a recent Pecha Kucha Night, "grab a beer and grab a seat because we're ready to roll!" The lights went down and a team of high-tech, computer-animation whiz kids launched a slick presentation of the latest holographic animation techniques for artists and business marketers.
Two hours later, after leading the audience through a Q&A session on the new frontier of computer art and modern marketing, Hildebrand summarized the new dynamics of "evolving synergy," which, he says, are reshaping traditional definitions of art and commerce.
"There's a new world coming," says the upbeat arts entrepreneur, "and it's going to be a thrill a minute to watch it unfold. It's going to be a world where collaboration is king!"