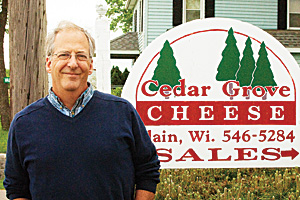 Like the spicy Monterey Jack, cheddar, Colby, Havarti, and butterkäse his factory turns out, Bob Wills is perpetually evolving.
"When you taste a good cheese there's usually layer after layer after layer of different things happening in your mouth," Wills, SIS/BA '76, says. "Because it's a living food it's constantly developing. It's a comfort food. It's an ancient food. It's a complex food."
Nestled about an hour northwest of Madison in the idyllic hills and pastures of Plain, Wisconsin, Cedar Grove factory has been churning out cheese since 1878. More than a century later Wills and his wife, Beth, took a leap of faith, purchasing the factory from her father. In the ensuing years Wills has transformed the business into one of the most environmentally friendly, palate-pleasing cheese manufacturers in the country.
"Bob Wills has two of the best qualities a cheese maker can possess: skill and creativity," says Jeanne Carpenter, a self-described "cheese geek" who writes the blog Cheese Underground. "He isn't afraid to take risks. The first time I spotted his smoked salmon and dill cheddar, I thought he was nuts. Then I tried it. That cheese has gone on to win awards and be used in recipes by famous chefs across the country, all because Bob asked himself, 'What if?'"
Self-examination has been a staple of Wills's personality throughout his 57 years. Growing up outside Milwaukee he became interested in international development issues, which led him to Washington, D.C., and the School of International Service.
"I think my experience at AU, having access to Congress, doing internships while I was there, has had a huge impact on everything I've done since," he says. "But somewhere along the way I concluded that I didn't understand my own country well enough to mess around with somebody else's."
After attending graduate school at the University of Chicago, Wills decided he didn't like the way the faculty thought about economics, so he finished his PhD at the University of Wisconsin, where he also earned a law degree.
When his wife's parents decided to sell the cheese-making business they'd owned since 1946, Wills questioned himself once again.
"I thought about it and I said, 'What was the job I liked best?'" he recalls. "I'd worked as a janitor during a summer, and I liked it because I saw what I'd done at the end of the day. In some ways manufacturing has the same kind of feel to it."
Like Swiss cheese, Wills's knowledge of the business had many, many holes. But he served a sort-of apprenticeship under his father-in-law and slowly began to reshape the company.
Green initiatives were among his early priorities.
Traditionally, cheese making involves the use of animal enzymes, but Cedar Grove became the first company in the nation to label its cheese free of synthetic growth hormones. They don't use any genetically modified products, relying instead on vegetarian enzymes.
"Everybody said you can't do that and make good cheese, but we keep winning awards with it," Wills says.
In 2000 he shelled out nearly a quarter-million dollars for the installation of a state-of-the-art wastewater treatment system. Dirty water from the factory is piped into a nearby greenhouse where plants naturally filter 7,000 gallons each day. At the end of the complex process clean water is returned to a nearby creek.
"When I was at AU I worked for [former Senator] Gaylord Nelson, the founder of Earth Day," Wills says.
"It got ingrained in me to think about the ways water is used. Also, I live across the street from the marsh, so when it's clean I'm happy."
The use of fresh, natural ingredients is vital to making tasty cheese. Every day 160,000 to 180,000 pounds of fresh milk from the 30 Wisconsin farms Wills works with arrive at Cedar Grove.
"It starts with the grass," he says. "The health of the animals is important. We make a lot of cheeses from cows that are only on pastures. We're operating on a small enough scale that we have a lot of control and flexibility."
After going through the pasteurizer, a cocktail of bacteria is added to the cheese to give it flavor. Enzymes are added to make the milk thicken. When it's the consistency of pudding or Jell-O, it's cut into cubes then heated to separate the whey from the curd.
Roughly a pound of cheese is produced from every 10 pounds of milk.
Cedar Grove sells 30,000 pounds of curds a week in the summer. A Wisconsin delicacy, curds are small, round, un-aged cheese nuggets with an almost rubbery texture. They can squeak when chewed.
The curds that aren't sold are pressed, shaped, and packaged for aging (at 36 to 38 degrees). The entire process takes about seven or eight hours, meaning Cedar Grove can produce 3.5 million pounds of cheese a year. It's shipped to virtually every state and also used in products like snack foods, frozen pizzas, and even baby food.
In May Wills broke ground on Clock Shadow Creamery, a smaller factory in Milwaukee that will produce 700 to 800 pounds per day of fresh cheeses, like ricotta, and host an apprenticeship program.
"Bob Wills is the incubator of new cheeses and a champion for new cheese makers in Wisconsin," Carpenter says. "He is one of a handful of cheese plant owners who rents out space to other cheese makers and who partners with dairy farmers to make custom cheese from their milk.
Wills made the decision to open his plant 11 years ago to share knowledge with up-and-coming cheese makers, despite the risks of competition and confidentiality issues. Because of this willingness to help grow the industry, Wills has helped at least a dozen beginning cheese makers and dairy farmers launch their own cheese brands, including arguably the most famous cheese to ever come from Wisconsin: Pleasant Ridge Reserve of Uplands Cheese, a triple best of show winner at the American Cheese Society."
Wills credits camaraderie and friendly competition for the dramatic upswing in the quality of Wisconsin cheese. He calls the last decade "the most exciting time I can remember in terms of creativity and technological advancement.
"Consumers have gotten so curious about what we're doing, we can be aggressively experimental," he says. "It's innovate or die."
At Cedar Grove that spirit has led to the creation of artisanal 18-month aged cheddar, goat and sheep's milk cheeses, and water buffalo mozzarella that is sweet, clean, and rich. It's also motivated Wills to continue asking himself, what's next?
"I probably would have made more as an economist, and I definitely would have made more as a lawyer," he says. "But I train people, I give farmers an opportunity to get value for their milk, I make customers really happy when they have a bite to eat. It's a pretty nice life."