Alumni
'Yankee Cooking At Its Best'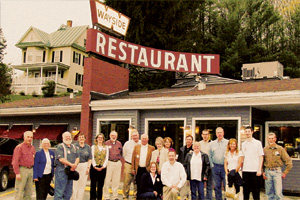 It's a pilgrimage New Englanders have made for generations. As a boy Brian Zecchinelli's parents would load him into the Dodge Aspen for a monthly trip to one of the family's favorite restaurants: the Wayside.
Just five miles separated the Zecchinelli home in Barre, Vermont, from Berlin, where the iconic eatery opened in 1918.
On the way young Brian's mouth would water as he anticipated the first bite of a juicy hamburger, made then as is it now from fresh locally ground beef. His mom usually ordered the tripe.
"We batter it and deep fry it, and we still serve it to this day," says Zecchinelli, 52, who switched sides of the counter in 1998. "Some people have been coming here their whole lives, but this place is about so much more than food."
Ever since Effie Ballou opened the Wayside on a dirt road near a trolley route, it's been a gathering place for politicians, working folks, and everyone else who appreciates delicious down home cooking.
"When my husband and I first got married in '58 we used to go there for breakfast," says Pat Mercier, a seven-visits-a-week regular. "We'd have breakfast so we could sleep a little later before mass. The waitresses get so they know you. The moment you come in they'll bring you your coffee, and they'll tell me right off if they don't have blueberry muffins, because I love blueberry muffins."

In 1966 Eugene and Harriet Galfetti bought the Wayside from its second owners, the Fish family. Their daughter, Karen, started working there in 1974, and for years one of her customers was Zecchinelli, Kogod/MS '85. But the two didn't formally meet until 1992, when both served on a local chamber of commerce board. They married four years later, and when Karen's brother Peter followed love to Boston, the couple bought the business from her parents.
"People do think of it as a diner, because there is a 12-seat counter," Zecchinelli says. "But it's evolved into a pretty comprehensive restaurant with everything from eggs and bacon to beautiful salmon specials, oysters, and clams."
The Wayside officially opens at 6:30 a.m., but those at the door by a quarter past six are seated and treated to complimentary buttermilk doughnut holes. One of the most popular breakfast specials is the Cackleberry—two farm fresh eggs and toast made daily in the Wayside's bakery. It'll set you back 99 cents.
"It's very reasonable for a family and especially retired people like us," Mercier says. "I don't know where you can get dinner for two people for under $20. I can't even cook at home for that. And they have the best scallops around—I don't care. Even your fancy restaurants' aren't as good."
Specials are a staple. Each day there are at least four, including the Vermont (a country cooking classic like casserole) and the Traveler's (seafood, steak, or pork chops).
"Yankee cooking at its best," declared the New York Times, which especially enjoyed the universally beloved salt pork and milk gravy, "an old-timer's dream and a nutritionist's nightmare."
No matter what you order, chances are it comes from a farm nearby.
"We deal with a dozen [farmers] on a very large scale, and another dozen folks just come through the back door and have something special they think our customers would enjoy," Zecchinelli says. "The back door's always open to farmers, growers, and gatherers."
At its core the Wayside is an extension of your own kitchen table: a place to enjoy honest food surrounded by the people you love.
"We're blessed to be carrying the ball forward," Zecchinelli says. "We aren't going to let any of our predecessors down."