In the Community
Bluegrass Country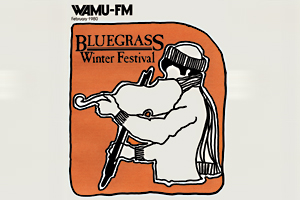 It is with startling exactness, like a mandolin player striking strings during a speed-of-light solo, that historians pinpoint bluegrass music's symbolic big bang.
On December 8, 1945, Earl Scruggs joined Bill Monroe and his Blue Grass Boys on stage at the Grand Ole Opry in Nashville, Tennessee, and proceeded to pick his banjo using a three-finger roll technique that stunned the patrons inside the 3,574-seat Ryman Auditorium.
The people in the theatre that frigid fall night were just a fraction of those who heard history — the birth of a genre. Untold more tuned in to the show on Nashville's WSM, a 50,000-watt radio station whose signal stretched from the Atlantic Ocean to the Rocky Mountains.
Before Twitter and television, radio was king, and the Grand Ole Opry was appointment listening.
Twenty-two years after that fateful night at the church of country music, 660 miles to the northeast a radio program highlighting this newfangled hillbilly music premiered on a Washington station, then in its FM infancy.
From Arlington to Bethesda to Capitol Hill, kitchens, living rooms, and front porches were filled with toe-tapping tunes, nary an instrument in sight. Since the moment Dick Spottswood spun his first record on WAMU 88.5's Bluegrass Unlimited, the music has played a vital role in the enduring success of the station. In turn, bluegrass owes a debt of gratitude to WAMU, which through the years has boosted its vibrancy in the nation's capital.
Call it perfect harmony.
"WAMU's place as a broadcast outlet has been highly important in exposing the music to people," says Dan Hays, executive director of the International Bluegrass Music Association.
"Washington being a melting pot certainly helped take it back home to all points of the United States and even beyond. Anyone who's familiar with bluegrass would say it's one of the top five most influential stations around."
Like the classic "Foggy Mountain Breakdown," the tale of bluegrass on WAMU takes many twists and turns. Unlike the song, the story doesn't end. As it celebrates its 50th year on FM, broadcasting bluegrass on the Internet, high definition radio, and once again through a frequency modulation signal remains an integral part of WAMU's mission.

Musical Migration
If the 1945 concert captured lightning in a bottle, the ensuing series of songs Monroe and his band, featuring the brash young banjo player, recorded for Columbia Records preserved the electricity forever.
"They laid down what many people consider the original recordings of bluegrass music as we know it today," Hays says. "Bill Monroe is certainly both from an academic and general popular belief viewed as the father of the music, but I don't think anyone would try to tell you that he invented it. Music isn't like a piece of machinery that you sit down and invent."
In truth, incarnations of "old time" country music had existed in the small towns of Appalachia for decades. Like most forms of roots or folk music, it's impossible to trace its lineage with certainty.
It's even dicier to define.
"People will always want to sit down and debate, what do you consider bluegrass?" says Gary Henderson, who's been involved with WAMU's bluegrass programming since the start. "It's all acoustic; it's got a fiddle, banjo, Dobro, mandolin. It's centered around vocal harmonies. You have purists that say it's got to sound like Bill Monroe. Aw please, grow up. Music has to evolve."    What is definitively known is that the addition of Scruggs to Monroe's band, which included Lester Flatt on guitar, bassist Howard Watts, and Chubby Wise playing the fiddle, catapulted it toward the mainstream.
"The music takes the name bluegrass from a reference to Bill Monroe's home state of Kentucky," Hays says. "That group from the '40s, as well as people emulating that style, became more prevalent. By the mid to late '50s you had people referring to that style as bluegrass music out of respect for Bill."
As bluegrass was spreading, America's demographics were changing. From 1940 to 1950 Washington's population jumped 21 percent to 802,178 (the city's population was 601,723 in 2010).

"You had a cultural migration out of the Appalachian Mountains to the metropolitan centers," Hays says. "On the eastern side you had a lot of folks from Virginia and the Carolinas that migrated to Baltimore and Washington to find jobs."
They brought their taste in music with them. Henderson was a teenager living in Silver Spring, Maryland, when his ears first awakened to bluegrass.
"The banjo, the driving fiddle, the three- and four-part harmonies, there was something different about the music that appealed to me," he says.
He wasn't alone.
"A lot of people for some reason who were born in this area grew up really liking that music," Spottswood says. "By the early '50s I was aware of hundreds of people in my school who actively enjoyed it. Why that happened here and not New York or other cities, who knows? Maybe it was something in the water."
Spottswood, from the "wilderness" of Chevy Chase, must have been gulping it. He cofounded Bluegrass Unlimited magazine in 1966, and a year later brought WAMU's first bluegrass show to the airwaves, with Henderson as producer.
"I heard some jazz programming on, so I called over there and said, 'bluegrass music is pretty nice too,'" he says. "Gary and I both had day jobs, so we would record three or four shows at a time on Sundays. It bounced around the schedule. Whenever they needed it, they had finished 30-minute tapes on seven-inch reels."
Turns out they'd need a lot more than that.

Washingtucky
A decade after bluegrass debuted on WAMU, the station was carrying more than 20 hours of the music per week.
"WAMU was important because it reflected the bluegrass scene in Washington, D.C., and helped propel it," says Derek Halsey, who writes for Bluegrass Unlimited. "It's where bluegrass music really went urban."
From big-time venues like the Birchmere in Alexandria to smaller bars, a fan could find live bluegrass virtually any night of the week. The Washington area was home to some of country's biggest acts, including the Seldom Scene, Johnson Mountain Boys, and the Country Gentlemen.
"All these things fed off each other," says Katy Daley, SOC/BA '79, who's on her second stint with the station. "These bands were huge not only in the Washington area, but huge in general. WAMU was part of the perfect storm."
Randy Waller, now leader of the Country Gentlemen, spent some of his childhood in northern Virginia. When he wasn't listening to his father, Charlie, play guitar as an original member of the band, his ears often were glued to WAMU.
"It was major," Waller says of the station's influence. "Their bluegrass calendar was how you'd know who was playing where."
The Johnson Mountain Boys featured a young fiddle player named Eddie Stubbs.
"I discovered WAMU right about the time of the nation's bicentennial," says Stubbs, who played with the band for nearly two decades. "I was 14 years old and I heard Gary Henderson on there on Saturday and Sunday mornings. He helped to form my taste in what the foundation of good music was."
Stubbs eventually met his would-be mentor and became a fill-in deejay. In 1990, he landed his own show, which ran for 17 years.
"Washington was the bluegrass capital of the world," he says. "There was no other station in the nation that was doing what WAMU was. It was on seven days a week, and that just didn't exist elsewhere. It was real easy to get spoiled."
Even the first President Bush didn't realize how much he missed WAMU's bluegrass until he was gone. When Barbara Bush stopped by the station's Brandywine Street studios for an interview with Diane Rehm, Stubbs asked to have his photo taken with the former first lady.
"She said, 'I know who you are. George really misses you,'" Stubbs recalls. "That was pretty strong to hear. The White House was listening to WAMU."
When he moved to Nashville to play fiddle for Kitty Wells in 1995, Stubbs continued taping his show. Now an announcer at the Grand Ole Opry and host of a nightly program on WSM, Stubbs was named to the Country Radio Hall of Fame in October.
"The WAMU show was my calling card in Nashville," he says. "A lot of people recognized the importance of the station, the power of it. It helped open some doors for me in this town."

A New Country
The bond between station and listener was tighter than a Ricky Skaggs riff. Longtime hosts Jerry Gray, Red Shipley, and Ray Davis felt like members of the family, their voices providing as much comfort as the tunes they played. Fans showed their appreciation with their wallets.
"We were so successful raising funds in the '70s, the station kept expanding the number of hours that bluegrass was on the air," says Lee Michael Demsey, SOC/BA '75, who's been with WAMU for 35 years.
But as the station continued to grow through the '90s, it became more and more focused on news and talk programming. Combined with the emergence of new technology, bluegrass slowly began to be phased off 88.5 FM.
"It was a good decision," says none other than Dick Spottswood. "When WAMU started playing bluegrass we were the only game in town. Today the pie is split much thinner. There are 55 streams of bluegrass music on the Internet. You have your iPods, satellite radio. This is not small market radio. In a big market, you want the listener to not be confused. Is it a news station or a bluegrass station?"
In 2001, WAMU rolled out BluegrassCountry.org, a 24-hour online radio station. For the first three years the music was automated, the programs prerecorded. To some longtime listeners, the move felt like a slap in the face.
"The community was quite up in arms about it, and they resented it," Demsey says. "It's been a difficult climb getting the listeners back, but I think we're making great progress."
The station expanded Bluegrass Country to a full-time, live-hosted music service on 88.5-2, its new HD station, in September 2007. A year later, the story came full circle when it began broadcasting Bluegrass Country on old fashioned FM radio, at 105.5.
Bluegrass listeners remain a small but loyal part of WAMU's total audience. During its weeklong fund-raising drive in October, Bluegrass Country raised nearly $60,000 from more than 500 individual contributors, a record.
"It was necessary for us to flex our news and information muscles, but I felt bad it was bluegrass that was getting elbowed in the jaw," says Caryn Mathes, WAMU's general manager. "Bluegrass is in the fabric of this region. We're moving that tradition forward, paying homage to its legacy but also keeping up with where it's headed."
What began on a Tennessee stage 66 years ago now is considered 19 million Americans' favorite music, according to the IBMA. Thanks to movies like O Brother Where Art Thou, crossover stars such as Alison Krauss, newgrass groups like Yonder Mountain String Band, and the timeless tunes of Bill Monroe, bluegrass music today is more popular than it's ever been.
Ray Davis has been on the air for more than 60 years. He came to WAMU in 1985, and still hosts the Ray Davis Show weekdays from 3 to 6 p.m., broadcasting from his home studio in Falling Waters, West Virginia. Asked what he treasures most about the music, his answer also could describe the radio station on which it thrives.
"It tells a story. It's about life and home and mother and father. It's different than fads that come and go. It's here, it's been here, and I think it will always be here."