Alumni
Homicide: 33 Years on Baltimore's Streets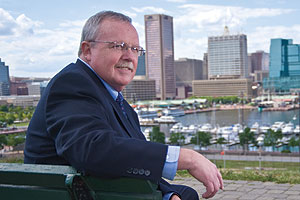 In the world of homicide investigation, it's not just the guts and gore that take their toll. The hours are long; witnesses are uncooperative; and juries are unpredictable. It's a stressful, often thankless, job that defies any notion of work-life balance. Your son's got a Little League game? If that squad room phone rings, you're up. Sorry, slugger.

After 33 years with the Baltimore Police Department, Major Terry McLarney, commander of the city's homicide unit and one of the detectives who inspired an entertainment franchise that includes Homicide and The Wire, has, on occasion, debated the merits of a nine-to-five gig. No Kevlar vest required.

McLarney, SPA/BA '75, earned a law degree in 1981 while working graveyards in Baltimore's Central District, boning up on wills, trusts, and estates between calls to the nearby housing projects. Even in Charm City, he says, attorneys are less likely to get shot than cops.

But law never fascinated McLarney the way police work did. Ultimately, he didn't want to prosecute murders; he wanted to solve them.

For McLarney, a product of the D.C. suburbs, who came to the city on the Patapsco in 1976 craving action and adventure, Baltimore homicide is home.

"People ask me why I've stayed so long," says McLarney, 56. "But who would leave? The Baltimore Police Department is the greatest show on earth."

Culture shock

A year after graduating with a justice administration degree from AU, McLarney was behind the wheel of a radio car in Baltimore, undertaking an education of a different sort.

"I was stunned at the violence," he says. "There was definitely some culture shock."

Chuckling, McLarney recalls a time when, fresh out of the academy, he turned to a more seasoned cop and informed him, "There's a gang out here, they call themselves the 'homeboys,'" a slang term for friend. 

"God help us," sarcastically replied the exasperated elder.

But McLarney soon learned the rhythm and lingo of the street. In policing, "experience is everything, and with the volume of crime in Baltimore, it doesn't take long to get it."

The young cop took his lumps—a broken hand here, a few stitches there, and the occasional tumble down the stairs. "You have to be tough," he says. "If you can't pull off anything else, you should at least be tough."

But McLarney was more than tough. He was smart, a keen observer, a good listener, an even better talker. He was, as they say, natural police. In 1981, he was assigned to homicide where, at 28, he was, by far, the youngest detective on the floor. Three years later, he was promoted to sergeant and shipped off to the Western, one of the city's most violent and volatile districts.

In 1985, McLarney took one bullet in the stomach and another in the leg while on patrol in the Western. The married father of one son was on medical leave for eight months, and used a colostomy bag until his digestive system healed enough to permit the reversal surgery.

Despite the colostomy bag, the crime, and the corner boys—or perhaps because of it—the swath of the city west of downtown still holds a special place in McLarney's heart.

"I worked in the Western three different times in my career, and to this day, when I cross into the border, I get a warm, fuzzy feeling," he says with a grin. "On a hot summer night, the old Western District was a very strange place to be.

"The violence doesn't look evident until—poof!—it is."

Finely-tuned skill set

A one-time offensive lineman on AU's '73 and '74 football teams, McLarney is always quick with a sports analogy.

A detective is like a decathlete, he explains. It's not enough to be good in the interview room; if a cop wants to win a conviction, he's got to master every event.

"On any given day, you're going to have to deal with a doper on Pennsylvania Avenue, lawyers, forensic scientists, and doctors," he says of homicide detectives, who also handle kidnappings, officer-involved shootings, threats against police, extortion cases, and questionable deaths. At its core, "this job is all about talking to people—and we can't teach that. We can teach crime scene investigation and methodology, but we can't teach a guy to sit in a room for four hours and elicit a confession from someone."

Writing and computer savvy are also part of a detective's skill set. Even the "dunkers"—domestic homicides, for example, in which a wife, without a hint of remorse, cops to offing her good-for-nothing-husband—boast case files a couple inches thick.

Stamina and persistence are everything. A good detective is a stubborn detective, willing to sacrifice sleep and sanity for a case, and absolutely, positively unwilling to let the bad guys win.

But just like a decathlete with a nagging ACL injury, the job can take its toll.

"At a minimum, you enter into a world of diminished expectations," explains McLarney. "Human nature's got some real problems."

Learning curve

"I'm not ready for this. I have no idea what I'm doing," was the chorus running through McLarney's head when he caught his first body—an elderly woman, who it turns out, died of natural causes.

But, in the world of homicide, the next case isn't a matter of if, but when. McLarney quickly discovered the best way to learn to swim was to do a cannonball into the deep end.

"As a young detective, I'd look at a scene and think, 'this is just horrific,' but doctors and nurses see the same thing, it's just not as messy," he says.

"You learn to accept that everywhere you go, someone's dead. And you focus on the task at hand: combing the scene for shell casings, scouring the streets for witnesses, piecing together the whole, sordid puzzle.

Ultimately, detectives are simply too busy, and too well trained, to see the victim as more than a body—the biggest piece of the puzzle. There is no time to wonder if the deceased preferred her crab cakes broiled or fried. And such curiosities don't trump the biggest question of all: whodunit?

"You can't afford to be distraught for days on end," says Jack McGrath, one of 84 detectives working under McLarney. "It's a casualty of this job."

Keep talkin'

The first rule of homicide investigation: everyone lies.
In Baltimore, the average homicide victim has been arrested 10 times, and the average perpetrator has been in cuffs 11 times. Among suspects, witnesses, and the dearly departed himself, there are often few innocents.

Physical evidence and reliable witnesses are key to cracking any case. On the street, detectives sort through mountains of old trash—or "artifacts"—in search of casings and other clues. In the office, investigators have an even more daunting task: sorting through mountains of untruths.

The graffiti that adorns the unit's holding cells—"never tell" and "don't snitch"—says as much. And while such threats are lobbed at would-be-witnesses in inner cities across the country, the "Stop Snitchin'" campaign has its roots in Baltimore.

In 2004, a DVD featuring drug dealers threatening violence against anyone who cooperates with the police began to circulate. NBA star and one-time Baltimore resident Carmelo Anthony appears in the video.

"In the city of Baltimore, the last thing you want to be is a witness," says Detective McGrath.

Though the Baltimore Police Department launched "Keep Talkin'," a campaign to undermine "Stop Snitchin'," most witnesses, whether fearful or indifferent, prefer to keep quiet.

"In the old days, it was rare to come back to the office without a witness waiting for you," recalls McLarney. "Today, there are still people who want to talk to us, there are just less of them.

"Some of the most brilliant interrogations I've seen were getting people to admit they're a witness."

Numbers game

Witnesses lie, suspects lie. But the numbers never do.

Each morning, McLarney receives an updated tally of the month's murders, along with year-to-date figures and comparisons to the previous year. He can rattle off a barrage of stats at any moment.

Baltimore, which has long held the dubious distinction of being one of the most murderous cities in the country, sees 0.63 homicides a day, or about four per week. In 2008—McLarney's first year at the helm of homicide—there were 234 murders, down from 282 the year before. It was the lowest homicide rate the city's seen in 20 years.

And while, as of June, Baltimore has clocked more murders than at the same point last year, McLarney's detectives have charged 61 more suspects. "There's some luck involved, but mostly it's everyone chipping in and working together," he says.

Lady Luck has nothing on the cold case unit, though, which has turned a record number of cases from red to black this year.

One of McLarney's first directives as major was to double the cold case squad to 13 detectives and supervisors. As of June, the unit had closed nine murders—the same number of cases it closed in all of 2008.

Each Baltimore homicide detective typically handles six to nine murders a year, almost twice the national average of four. Given the volume of crime, cases can go "lukewarm" quickly, explains McLarney, and even a murder as fresh as 2008 can be passed along to cold case.   

Last year, when the city saw a string of prostitutes murdered, a cold case task force combed through 38 similar cases, dating back to 1994, to look for patterns. They used DNA samples to clear several cases, including one in which the suspect murdered two women and assaulted another.

McLarney admits that one of his greatest satisfactions as major has been assigning some of his old whodunits to cold case. "It's one of the benefits of rank," he laughs.

"As a detective, the cases you don't solve nag at you." It's as much about personal pride as it is about justice.

Moving mountains

Some of the most frustrating cases are those in which detectives have a suspect, but no evidence.   

McLarney and his team usually know which drug organization is behind a shooting, for example; they might even know the gunman's name. "It's just a matter of proving it."   

DNA evidence was first employed in 1988 to convict a murderer in England, and forensic science has since revolutionized the world of homicide.   

In the old days, a hair could reveal race and little else. Today, advancements in both forensic and computer technology allow detectives to link a suspect to his crimes—past and present—through microscopic skin cells, ballistics, and more.   

"Forensics has changed the entire ballgame," says McLarney, but not always for the better.   

TV shows like CSI have greatly exaggerated the capabilities of forensic science. As a result of this "CSI effect," juries often expect the impossible from investigators.

Also, says Detective Marvin Sydnor, it's made some criminals smarter.   

"I've been out to murder scenes where you can still smell the bleach from the guy trying to clean up after himself," says the 24-year veteran. "Every move we make, they're sitting in jail trying to counter. It's like a chess game."   

Cell phone technology and surveillance cameras, 500 of which dot Baltimore, have also upped the ante. Still, says McLarney, no gadget trumps tenacity and good, old fashioned police work.   

He recalls a 2007 case in which a Morgan State University graduate was found tortured and murdered in the trunk of her car. A long wiretap investigation not only led to the woman's killers, it also brought down a major heroin and cocaine operation.   

"When we know who's behind a murder, we'll move mountains to get those cases down," he says.

Natural police

Sometimes, McLarney longs for his days as a detective.    

"As you make rank, you get further and further from the streets," he says, wistfully. McLarney's weekly operations meetings have nothing on a red ball, a high-profile case that can make or break a detective's career.   

Still, there's no question he's the right man for the job.    

After launching a nationwide search in 2008 for a new homicide commander, the brass offered the position to McLarney who, in his first 15 months on the job is clocking a 61 percent clearance rate, seven points higher than the national average for cities of Baltimore's size.      

Up to 50 detectives pass through his fifth floor office each day to chat about a case or commiserate about last night's Orioles game. His affection for his detectives is obvious, and despite the demands of upper management, he's always got time for an encouraging word or a story from "the old days."   

McLarney has always bled blue and now, at the helm of homicide, it's his responsibility—and his privilege—to shape the next generation of detectives, the men and women who read David Simon's book Homicide 18 years ago with eyes wide and minds racing.   

"I'm an unabashed cheerleader: I think we have the best homicide unit in the United States," he says. "Chemistry is everything in a unit, and I've been lucky to have such a great group of cops."   

He's also fortunate to have spent the last 33 years chasing his passion—lights, sirens, and all.   

"Only a handful of my friends love what they do. I'm lucky to have done something in my life that continues to fascinate me."