3. Demonstrate Distinction in Graduate, Professional, and Legal Studies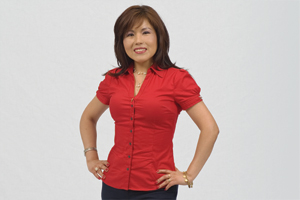 (Photo: Jeff Watts)
"Graduate education is central to AU. By head count, we have more graduate than undergraduate students, so in my mind, this is a very large piece of who we are.
The scholar-teacher model is ideal for graduate education. You want faculty who are top scholars teaching the graduate students who will become the next generation of top scholars. We want faculty to be cutting edge in their own area, and also to take teaching very, very seriously." —David Rosenbloom, distinguished professor, SPA
BOOKS, NOT BRIBES
In Peru, Carmen Apaza, above, turned down bribes. Now she's working to rein in corruption around the world.
"They said I could have a blank check," the former customs inspector says of those who tried to draw her into their schemes.
The experience drove her to the courts, and then to AU's School of Public Affairs where she's researching corruption control and prevention mechanisms. The doctoral student has spoken at international conferences and is coauthoring a book with an acclaimed scholar she met at a panel organized by an AU professor. An internship at the Organization of American States led to a job working on good governance.

"You can keep ethical in a corrupt environment," she says. "But some people just want to have more."
Apaza, too, wants more—more honesty, and more transparency. For her, that means more research, writing, and engaging with scholars and practitioners around the world.