9. Encourage Innovation and High Performance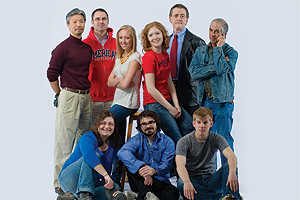 (Photo: Jeff Watts)
"Innovation really comes from the bottom up. It comes from the faculty. But we also need a culture at the top that puts structures in place to encourage that. We should be able to integrate across departments to get many perspectives you don't think of when you work in silos. I'd think of innovation in terms of the curriculum and student life activities—that's the real innovation. Technology is merely an enabler." —Ajay Adhikari, professor, Kogod, took students to India as part of a joint graduate course with SIS and WCL on the information economy and corporate strategy.


EVOLVING EDUCATION
The Galapagos Islands will be the setting for what could be a preview of AU's innovative future. Students will head to the islands in May armed with scientific knowledge, video cameras, and real-world assignments.
It's the final project of the team-taught Practice of Environmentalism, where they've been learning about policy, science, and digital storytelling tools from CAS, SIS, and SOC faculty.
"Science can drive policy," says Mark Petruniak, SIS/BA '09. "But messages have to be communicated properly, and that depends on the science being in place and the policies being substantive."
It all leads up to a scientific message for policy makers and the public.